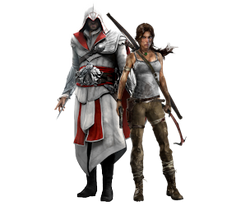 Action-Adventure Games
Go to these sites for info or for help with your own wiki!
ARK: Survival Evolved • Assassin's Creed • Bayonetta • The Binding of Isaac • Darksiders • Devil May Cry • Dragon's Crown • Fran Bow • God Eater • Grand Theft Auto • Gravity Rush • HITMAN • Horizon Zero Dawn • Just Cause • King's Quest • L.A. Noire • The Last of Us • Legacy of Kain • Legend of Zelda • LEGO Dimensions • Lightseekers • The Longest Journey • Mafia • Metal Gear • Monster Hunter • Ninja Gaiden • Ōkami • Prince of Persia • Red Dead • Senran Kagura • Shenmue • Sleeping Dogs • Splinter Cell • System Shock • Tomb Raider • Uncharted • Watch Dogs • Yakuza
Want your community included? See how!

Quote of the Moment
"Oh, lovely Zelda. What is it like to be a princess from a kingdom blessed by so many happy endings? Once upon a time, Lorule was such a place. Once, but no longer. Lorule was just like Hyrule. So very beautiful. So very…promising."
Temple of Courage
Wiki News
April 4, 2017

March 20, 2017

February 28, 2017

February 7, 2017

January 18, 2017

July 18, 2016
Zelda News
April 12, 2017

A Nintendo Direct video presentation reveals three new amiibo for the "30th Anniversary - The Legend of Zelda" series, and their official release date, on June 23th.

March 3, 2017

The Legend of Zelda: Breath of the Wild is released for the Nintendo Switch and Wii U.

January 12, 2017

During the Switch Presentation 2017, Nintendo publishes a new trailer of The Legend of Zelda: Breath of the Wild on Nintendo Switch revealing officially the release date, on March 3rd.

December 12, 2016

Nintendo has released the "30th Anniversary - The Legend of Zelda" amiibo series consisting of four new amiibo, The Legend of Zelda Link, The Ocarina of Time Link, and The Wind Waker Toon Link and Zelda.

October 20, 2016

Nintendo reveals the first presentation of the Nintendo Switch with a version of The Legend of Zelda: Breath of the Wild showing new features and enemies. The presentation can also be viewed here.

June 14, 2016

At E3 2016, information about the upcoming Zelda game, revealed to be titled Breath of the Wild, is revealed through a new trailer and a detailed gameplay demonstration.

November 12, 2015

A Nintendo Direct video presentation reveals an HD version of The Legend of Zelda: Twilight Princess to be released in 2016 along with The Legend of Zelda (Wii U). In addition a female version of Link named Linkle is revealed as a playable character for Hyrule Warriors Legends, which will be released on March 2016.
Site Notice
Attention Editors,
Helping Out
To write a new article, just enter the article title in the box below.
Not sure where to start?
If you are new to wikis, check out the tutorial.
Languages
English · Español · Français · Nederlands · Deutsch · Italiano · 中文 · Request a wiki in another language
Ad blocker interference detected!
Wikia is a free-to-use site that makes money from advertising. We have a modified experience for viewers using ad blockers

Wikia is not accessible if you've made further modifications. Remove the custom ad blocker rule(s) and the page will load as expected.