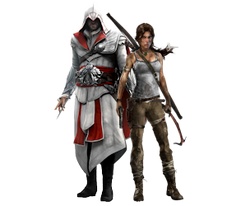 Action-Adventure Games
Go to these sites for info or for help with your own wiki!
ARK: Survival Evolved • Assassin's Creed • Bayonetta • The Binding of Isaac • Castlevania • Darksiders • Days Gone • Devil May Cry • Fran Bow • God Eater • Grand Theft Auto • Gravity Rush • HITMAN • Horizon Zero Dawn • InFAMOUS • Just Cause • King's Quest • L.A. Noire • The Last of Us • Legacy of Kain • Legend of Zelda • LEGO Dimensions • LEGO Marvel and DC • Lightseekers • Mafia • Metal Gear • Monster Hunter • Ninja Gaiden • Ōkami • Prince of Persia • Red Dead • Senran Kagura • Shenmue • Sleeping Dogs • Space Quest • Splinter Cell • Subnautica • System Shock • Tomb Raider • Uncharted • Watch Dogs • Yakuza
Want your community included? See how!

Quote of the Moment
"In the beginning, the people followed the Spirits of Good, and all was peaceful. But that era of peace soon came to an end. The evil Demon King rose to power, destroying everything in his path. The spirits of good had no choice but to face him in battle. The war that ensued seemed to last an eternity, and much blood was shed. Finally, the spirits subdued the Demon King, though they could not destroy him. Their powers were greatly depleted. With their remaining power, they buried the Demon King's spirit in the ground. They built shackles to imprison him, and a tower that acted as a lock."
Temple of Courage
Wiki News
April 4, 2017

March 20, 2017

February 28, 2017

February 7, 2017

January 18, 2017

July 18, 2016
Zelda News
June 13, 2017

June 13, 2017

April 12, 2017

March 3, 2017

January 12, 2017

December 12, 2016

October 20, 2016
Site Notice
Attention Editors,
Helping Out
To write a new article, just enter the article title in the box below.
Not sure where to start?
If you are new to wikis, check out the tutorial.
Languages
English · Español · Français · Nederlands · Deutsch · Italiano · 简体中文 · 繁體中文 · Request a wiki in another language