Zant's Forces are an enemy faction that appears in Hyrule Warriors and Hyrule Warriors Legends. They represent army of the Usurper King Zant from the Era of Twilight.
Origins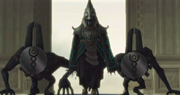 Zant's Forces is based on the unnamed army lead by Zant in Twilight Princess which he used to invade both the Light World and Hyrule.
Ad blocker interference detected!
Wikia is a free-to-use site that makes money from advertising. We have a modified experience for viewers using ad blockers

Wikia is not accessible if you've made further modifications. Remove the custom ad blocker rule(s) and the page will load as expected.