The Witch's Hut is a recurring location in the Legend of Zelda series. It serves as the home to Syrup in the games it appears in.
Appearances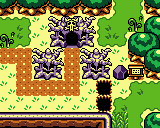 The Witch's Hut is found in Koholint Prairie, to the east of the Mysterious Woods. Link must bring a Sleepy Toadstool to the hut so Syrup can brew him Magic Powder.
The Witch's Hut is located in the Minish Woods. A shop of sorts, Link must buy the Wake-Up Mushroom from Syrup in order to awaken the sleeping Rem in Hyrule Town. Link can also buy Blue Potions and (after fusing Kinstones with a Forest Minish in South Hyrule Field) Red Potions from Syrup.
See also
Ad blocker interference detected!
Wikia is a free-to-use site that makes money from advertising. We have a modified experience for viewers using ad blockers

Wikia is not accessible if you've made further modifications. Remove the custom ad blocker rule(s) and the page will load as expected.