Walkthrough:The Legend of Zelda: The Wind Waker/Portal-Kombat
Talk

19
Share
Ad blocker interference detected!
Wikia is a free-to-use site that makes money from advertising. We have a modified experience for viewers using ad blockers

Wikia is not accessible if you've made further modifications. Remove the custom ad blocker rule(s) and the page will load as expected.
Portal-Kombat

– The truth is, there are no odds... more powerful than effort, more relentless than talent, LUCK is the true ruler of life.




TALK

 – Top 128

The Legend of Zelda: The Wind Waker is my favorite game, so I felt that I should give something back to it. By the time that this project is finished, it will be a 100% walkthrough of the game. In other words, we're going to get every single item and upgrade in the game, obtain every treasure, every Tingle-related item, and yes... even complete the Nintendo Gallery. Dust off that sea chart and prepare for a massive adventure across a world of wind and water!
Walkthrough Sections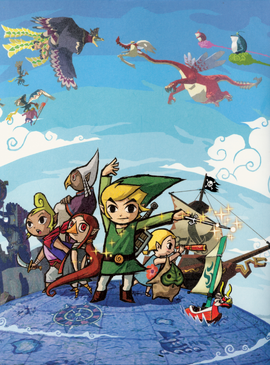 Part I From the Title Screen to your departure from Outset Island.
Part II From the Pirate Ship to the end of the Forsaken Fortress.
Part III Everything that can be done for now at Windfall Island.
Part IV From Pawprint Isle to the beginning of Dragon Roost Cavern.
Part V From Dragon Roost Cavern to leaving Dragon Roost Island.
Part VI From leaving Dragon Roost Island to the beginning of Forbidden Woods.
Walkthrough:The Legend of Zelda: The Wind Waker/Portal-Kombat/Part VIII|Part VIII
Walkthrough:The Legend of Zelda: The Wind Waker/Portal-Kombat/Part IX|Part IX
Walkthrough:The Legend of Zelda: The Wind Waker/Portal-Kombat/Part X|Part X