Volga's Helmet is a Helmet worn by the Dragon Knight Volga and his silver material drop in Hyrule Warriors and Hyrule Warriors Legends.
In addition to its role as a Material, it also appears as part of Volga's Standard Outfit.
Origin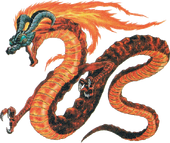 Volga's Helmet is based on the head of Volvagia from The Legend of Zelda: Ocarina of Time.
Gallery
See Also