Virtual Console
Talk

15
4,625pages on
this wiki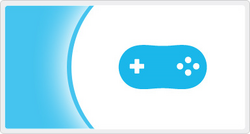 The Virtual Console (バーチャルコンソール, Bācharu Konsōru?) (sometimes abbreviated as VC) is an online service for the Wii, Wii U, and Nintendo 3DS that allows players to purchase and download games and other software. The Virtual Console lineup consists of titles originally released on past consoles. These titles are run in their original forms through software emulation and can be purchased for between 500 and 1200 "Wii Points" depending on system and rarity and/or demand.
The library of past games currently consists of titles originating from the Nintendo Entertainment System, Super Nintendo Entertainment System, and Nintendo 64, as well as Sega's Master System and Mega Drive/Genesis, NEC's TurboGrafx-16 and TurboGrafx-CD, SNK's Neo Geo AES, Commodore 64 (Europe and North America only) and MSX (Japan only). Virtual Console Arcade allows players to download video arcade games. As of December 2007, over ten million Virtual Console titles have been downloaded.
The 3DS's eShop also features a similar Virtual Console that will allow players to download Game Boy, Game Boy Color, Gamegear, and a select few NES games. Some of these games, labeled '3D Classics', have an additional stereoscopic 3D effect not available on the original cartridges.
Storage
Games downloaded from the Virtual Console library can be stored in the Wii's built-in 512 MB flash memory.
Wii system software version 4.0 allows Virtual Console games to be saved and played from a removable SD card. Firmware updates prior to 4.0 can allow games to be transferred to SD cards only for backup purposes; they cannot be played from this external memory.
Virtual Console games are locked to the Wii on which they were purchased—they cannot be transferred to another Wii via an SD card, although it is possible to purchase games in the Wii Shop Channel and send them as gifts to people on their Wii Friends list. This procedure does not work across regions and it has been reported that bought titles cannot be sent to users from other countries either, even if they are on the same region. In the event that a Wii is damaged and the Virtual Console games can no longer be played, Nintendo will provide support, providing the serial number or console email name can be provided.
Control
Virtual Console games can be played using three different controllers. The Wii Remote (turned on its side) can be used for the NES, Sega Master System, TurboGrafx-16, and some Sega Mega Drive/Genesis and Neo Geo games, and the Classic Controller can be used for all Virtual Console games. The controllers from the Nintendo GameCube can also be used for all games on the Virtual Console, except for some TurboGrafx-16 games.
All Virtual Console games have their buttons mapped to the respective buttons on the controllers, however, in certain circumstances users can use X and Y instead of A and B, if the original controller does not have X and Y buttons. In certain titles, such as Nintendo 64 games, there may be specific controls tailored to the Classic Controller or GameCube Controller. So far, none of the Nintendo 64 titles released have been able to support the Rumble Pak feature of the N64 controller, resulting in the Stone of Agony being useless in the Virtual Console version of The Legend of Zelda: Ocarina of Time.
Pricing
System
Starting cost
(Wii Points)
Japan
North
America
PAL region
South
Korea
Europe
Australia
Commodore 64
500

-

4

19

-

-

NES/Famicom
500 (400 in Korea)

117

77

66

64

23

Japan Famicom Games on the US VC
600

-

4

-

-

-

Sega Master System
500

13

10

9

9

-

TurboGrafx-16/PC-Engine
600

121

59

55

55

-

TurboGrafx-CD/PC-Engine CD-ROM
800
MSX
700

2

-

-

-

-

Mega Drive/Genesis
800 (600 in Japan)

86

62

64

64

-

SNES/Super Famicom
800 (600 in Korea)

54

39

34

35

13

Neo Geo
900

19

19

19

19

-

Nintendo 64
1000 (800 in Korea)

15

15

16

16

4

Virtual Console Arcade
500 (800 in Japan)

7

4

4

4

-

Total games as of April 3, 2009

434

293

286

266

40
Updating games
The Wii Shop Channel has functionality to allow games to be updated. This has been used three times so far to update Military Madness and Star Fox 64/Lylat Wars (in North America and Europe) and Mario Kart 64 (in Europe and Australia). The Legend of Zelda, The Legend of Zelda: A Link to the Past, Super Mario Bros., Donkey Kong Country, and Super Castlevania IV have also been given updates in Europe and Australia to fix previous problems with the Wii Component Cables. These updates are free of charge to those who have downloaded a previous version of the game.
The Legend of Zelda was one of the original titles available for the Virtual Console in all regions. It was first available in North America on November 19, 2006; Japan on December 2, 2006; Australia on December 7, 2006; and Europe on December, 8, 2006. This version of The Legend of Zelda is not the original NES release, but instead the updated version featured in 2003's The Legend of Zelda: Collector's Edition compilation disc for the Nintendo GameCube. The core gameplay is identical to the original game, however it features the save screen and text changes made to the 2003 version, such as the opening intro text and copyright date.
It is also been released on the Nintendo 3DS's Virtual Console feature.
The Adventure of Link was the third Zelda game available on the Virtual Console following. It was available in Japan on January 23, 2007; Australia and Europe on February 9, 2007; and North America on June 4, 2007. It was also the 100th Virtual Console title released in North America.
It was also released on the Nintendo 3DS's Virtual Console. It was first available for the 3DS ambassadors, people who bought a 3DS before the price drop. it was later released from the Virtual Console for any body else. Japan got the game on June 6, 2012, Australia and Europe go it on September 13, 2012, and the US got it on November 22, 2012
A Link to the Past was the second Zelda game available on the Virtual Console. It was available in Japan on December 2, 2006; North America on January 22, 2007; and Australia and Europe on March 23, 2007.
Link's Awakening DX was the first Zelda game to be made available on the Nintendo 3DS's Virtual Console feature. It was released on June 7, 2011.
The Oracle Series will be made available on May 30, 2013.
Ocarina of Time was the fourth Zelda game available on the Virtual Console for the Wii and is one of the most-downloaded Virtual Console titles. It was available in Australia and Europe on February 23, 2007; North America on February 26, 2007; and Japan on February 27, 2007. None of the Nintendo 64 Virtual Console games feature force feedback, which was originally provided from a "Rumble Pak", resulting in the Stone of Agony being useless to the player.
Majora's Mask was the fifth Zelda game available on the Virtual Console for the Wii. In Europe and Australia on April 3, 2009; in Japan on April 7, 2009; and in North America on May 18, 2009. The game can be downloaded for 1200 Nintendo Points in Japan and 1000 Nintendo Points in PAL territories and North America. It was the 300th game to be released on the North American Virtual Console. This was considered a big milestone for the virtual console, and wrote about it on the updates section.
The Minish Cap is the fourth Zelda game (counted as seventh total along with the other Wii VC titles) available on the Virtual Console for the Nintendo 3DS. It was released on December 15th, 2011 in Austrilia and December 16th, 2011 in Japan, North America, and Europe along with the other nine Game Boy Advance titles for the Ambassador Program for those who paid the Nintendo 3DS before the price dropped.
Criticism
Chris Kohler of the magazine Wired has criticized the overall release strategy of games on the Virtual Console as a handful of games were released at the launch of the Wii, though now only two or three games are released each week. Kohler also took issue with the Virtual Console's aspect ratio which stretches the 4:3 games when the Wii's system settings are set for a 16:9 television. The prices for the games have been criticized as too high, especially for the NES games, given the prices of many of the games on eBay and the near-zero costs of manufacture and distribution.
External links