A little about me
My first Zelda game was Zelda "collectors edition" and the first one i played was majora's mask for like 5 minutes. Then I started playing Ocarina of time and loved it, I now love Loz and have played almost all the games (I only need the oracles series and Links awakening) I play many other games to (elder scrolls, halo, smash bros, mario, and basically all games). My favorite Loz is probably Ocarina of Time, Because of the unparalleled level of bliss it gave me as a young child. I also think Shigeru Miyamoto is awesome for his amazing mind and creations. I have a near photographic memory, and would love any videogame recommendations.(please leave them at my talk page)
My Zelda Reviews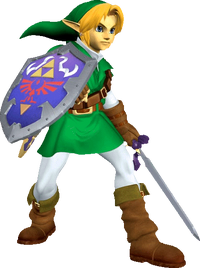 Ocarina of time
One Special Christmas my parents bought me a gamecube which came bundled with "The Legend of Zelda Collectors Edition" which had the first two Zelda games Ocarina of Time, Majora's Mask and a demo of Windwaker. Although technically the first one I played was Majora's Mask (for about 4 minutes, by which time i was still totally confused and didn't know how to draw my sword) it didn't really count. Then I started playing Ocarina of time and it was amazing! Yeah so what I didnt play it on the N64 so what! I had gotten far but I didn't have a memory card so I couldn't save. I kept, on a naive basis the theory that after i got the first three stones I could beat the game (was I wrong). then I got a memory card and 3 months later Boom! I destroyed Ganondorf completed my first zelda game. It seemed flawless and to this day I think that it is my favorite (with some competetion from Majora's Mask). Nothing could compete with its originality and the special place in my heart as being the first Zelda game I ever played.
Majora's Mask
Majora's Mask came along and wow it improved on everything I wanted in Oot. Its Creepy storyline and the ability to transform into different forms. The only thing i didn't like was having limited time to do things and having all my rupees and arrows etc. being sucked away every few hours but everything else made me forget about it. It improved on the enemies, the temples and the Music! (ok I have this weird thing for music and if a video game has great music i'll like it automatically). I relished the challenge of bosses harder than in Oot. Overall it was a incredible game minus having to find fairy pieces and having a time constraint. I loved every minute of it.
My Pages
Polls
What is your favorite Loz game?
Who is your favorite villain?
My Favorites
| Category | Best | Second Best | Third Best | Worst |
| --- | --- | --- | --- | --- |
| Male Character | Dark Link(Oot) | Link(twilight princess) | Ganondorf | Man of smiles |
| Female Character | Zelda(tp) | Midna | tetra | Navi |
| Villain | Ganondorf | Dark Link | Zant | Tingle (yeah i said it) |
| sword | empowered master sword(windwaker) | biggoron's sword | phantom sword | wooden sword(twilight princess) |
| non-sword Weapon | bow+Hawkeye | ball"n"chain | megaton hammer | Telescope |
| Races | Twili | Goron | Zora | Anouki |
| Bosses (Other than main bosses) | Twinrova | Argorok | Ganondorf (tp0 | Goht |
| Soundtrack | Oot Forest temple music | Temple of time (tp) | city in the sky | lost woods (Oot and MM) |
| Monsters | Darknut(tp only, others are stupid) | Dinolfos and Aeralfos( so what if i put two!) | iron knuckle | Redead(Oot and MM only. Tp redeads r pretty cool) |
| Dungeon | Temple of time(tp) | City in the sky | Spirit Temple | snowpeak ruins |
Userboxes