This is on Legendlink's page, but I made it up, but he started it)
"Um...5 bean burritos..10 bean tacos.. "OK bean seller, next time, the fourth number is four, not six. "oh"-C n D
"Save me obi-one, you're my only hope" (an anvil falls on obi-one) "OK, is any one else out there to save my lazy behind?"-C n D
(Stuff on Legendlinks page over)
Have you ever watched lleeoo2010's video about the final battle against Gannondorf? If you watch closely, Zelda and Link will switch places! Crazy game designing people! (shown to me by Legendlink. If you're wandering why Legendlink is in here so much, he showed me the website)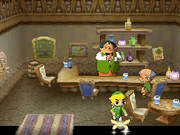 Who would you LEAST like to run into in a dark ally?
What would you rather have Link say to you?
You're favorite character in the entire series?
What is you're favorite boss?
3 things you need for Legend Of Zelda games |the ability to solve difficult puzzles |lots of time |skill
Do you have these abilities?