AuronKaizer/The List
Talk

8
4,759pages on
this wiki
This is a complete rip-off idea; the ever-so-original TOP TEN! Pop culture, books, games, films, television. Best of these. Okay buster?
Older Lists
I tend to write a hell of a lot when I first start writing something, so sections end up looking longer than I intended them too. From this point on, all lists will be shorter and more succinct, as I quickly lose my interest if I "have" to write long things every time. No, I don't have neuroses, screw you.
Supporting characters
Okay, so since protagonists are a cliché'd thing to write about, I thought I'd write about those other characters - you know, the ones that are actually good 90% of the time and not 20% of the time. Those guys who don't the main spotlight or the most screen time. Nor the girls nor the glory. But somehow outshine the "main characters". Especially since, those being fictional characters, glory or girls mean nothing to them. Respect is forever!
"This is just too much. I mean, yesterday my life's like, "Uh-oh, pop quiz." Today it's "Rain of Toads.""
— Xander Harris
One of the main reasons I love this show (apart from the brilliant script, cheesy jokes and hot lesbian action...Yeah, I'm ashamed of myself.) is this goofball. He can't fight. He can't be cool. And he's easily scared. All in all, pretty much like me. He provides a great counter-balance to the overly neurotic Buffy and pretend(?)-ditzy Willow. Yeah, I'm not running out of ideas.
"I have to find out who I am... I'm scared... What if I'm not even human...?"
— Vivi Orunitia
Vivi is the true main character of Final Fantasy IX. Now, besides the extremely questionable music and villain of that game, I thoroughly enjoyed it, and though it's nowhere near the best FF, you've gotta think relatively, since FF is the third best game series I know of. Vivi is a Black Mage. Hence, he's a short weird little guy with a lot of heart, guts and determination. His character is so well-written and so perfectly executed, he steals the spotlight in the game, and FFIX has the best character cast of any FF. As far as I'm concerned, he might be the best FF character that isn't my namesake.
If FFIX had a voice actor, he would probably have a voice like Butters from South Park.
"When you have to shoot, shoot, don't talk."
— Tuco Ramirez
Now, anybody who knows me knows that I'm a huge fan of the great Sergio Leone and all his films. You might say he's inspiration to me and my endeavours. Except for the fact that I haven't done anything of consequence to the world of course. The Good, the Bad and the Ugly, considered by many to be his masterpiece (although, in my opinion, that honor goes to Once Upon a Time in America) is, needless to say, one of my favourite films. Part due to the stoic badassness of "The Good" Clint Eastwood, partly due to the cold, calculating "The Bad" Lee Van Cleef, but mostly due to Eli Wallach's Tuco Ramirez, "The Ugly". A murdering foul-mouthed bastard if there ever was one. However, the downright masterful acting of Eli Wallach manages to turn even a murdering, foul-mouthed bastard into a character you care about and don't want to die, no matter what his crimes. Going from jolly gunslinger in one minute, to money-hungry merciless coward in the next, Tuco is just one of those characters you can't help but thoroughly think about as pure ownage. He's got many of the movie's best lines, and the ending scene (which I won't ruin to you unenlightened ones out there) is bizarre in that it's got you rooting for him and turns you against Eastwood. Fantastic character.
"Got Milk?"
— No good quote without swearing could be found.
Now, I already mentioned Once Upon a Time in America as my favourite film of one of my favourite directors, Sergio Leone, hence making it one of my all-time favourite films. Probably the slowest paced film ever made, Once Upon a Time in America is a magical, almost true tale a group of friends growing up in the Jewish part of the New York ghetto, viewed through three different time periods. A murder of the idea of chronology, Robert de Niro and James Woods do fantastic jobs as David "Noodles" Aaronson and Maximilian "Max" Bercowicz, respectively, William Forsythe's "Cockeye" character is one in a million.
While he's got a very minor role, the stoic, almost comical character of Cockeye is memorable. Yeah, the reason for his nickname is because he's got one bad eye, and not what you think. Bloody screwed-up weirdo bastards the lot of you. He, for some reason, remniscent of Johnny Guitar, the main character of (you guessed it!) Johnny Guitar, randomly plays a set of metal pipes. The strange thing is that, in the childhood section of the film, he plays a jolly happy song all the time, and in the section of the friends as men, plays an ominous tune, almost evocative of how dark things had become since then. Also, the scene where he "distracts" a nurse while Noodles, Max and their third friend Patrick "Patsy" Goldberg kidnap the child of a crooked cop is hilarious. Making a hilarious silent scene without resorting to practical jokes is hard. All in all, Cockeye is just one of the many reasons why this movie is one of my favourite movies of all time.
"Don't worry, you're just as sane as I am."
— Luna Lovegood
Yeah, it's no secret that the Harry Potter books are awesome. All you haters can just leave...right now. Just great craftsmanship it is. It's written in such a compelling and evocative way that it sucks you in and refuses to let go of you, making it real hard to stop reading them. J. K. Rowling has this incredibly knack of creating realistic and likeable characters. However, her best character is by Luna.
Not introduced before Harry Potter and the Order of the Phoenix, Luna is a strange, strange girl, who constantly refers to magical creatures, for example the Crumple-Horned Snorkack, that do not exist even in the already strange-creature-filled Wizarding World, that her dad invented for his nonsense publication "The Quibbler". However, she's also incredibly insightful and smart. What can I say, I can identify with the "strange". Not to mention that she is one of the only roles in the godawful films that is played WELL. Actually, more than well; brilliantly.
"Hope is the denial of reality. It is the carrot dangled before the draft horse to keep him plodding along in a vain attempt to reach it."
— Raistlin Majere
Dragonlance is one of those fantasy book series that are found everywhere these days. Well, maybe not exactly, owing to the fact that Dragonlance does not suck. A mature take on the fantasy world, the series' original creators, who created the entire concept of Draonlance originally as a Dungeons & Dragons setting, have created so many memorable characters in those books. Perhaps owing to the fact that they are conflicted characters who are never "always" on the good side. The most conflicted of these being Raistlin Majere.
Raistlin Majere is a mage. He was born into a life with frail health and has always suffered because of it at school and in life, generally. Not as good-looking or as friendly as his warrior yet dumb-as-a-doorknob brother Caramon, he early adapted a cynical, sarcastic disposition. One day, he discovers his skill in sleight-of-hand, and thusly discovered magic. However, he didn't do very well as a student of magic, and sold his soul for the gift. This debt was later repaid when an ancient lich, Fistandantilus, invaded his body and melded his soul with his during his final test to become a wizard. Since he also failed to perform the test correctly, he was cursed with a body-wracking disease, golden eyes and most horrible of all; eyes with hourglass pupils, dooming him to forever look at the world, seeing everything slowly dying. However, with Fistandantilus' magic, he achieved what he dreamed of; becoming the most powerful wizard in the world of Krynn.
Needless to say, the conflict of his character is immense, and at times, there appears to be no way back to the side of good for him. However, sometimes the good in him still shows that it exists. I cannot possible do this character justice with this simple little section, but the tragedy of it all makes you realize that even though his magic is unmatched, his mind and soul are beyond repair. Quite a price to pay indeed.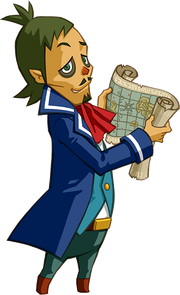 "The name's Linebeck! I'm a real man of the sea. Impressive, huh?"
— Linebeck
Yeah, you knew it had to come. A Zelda character; This is the Zeldapedia after all. Now, there have been many great supporting characters in the series that have brought joy to my life many times, but none eclipses the one, the only - LINEBECK. A sea-faring captain of fortune, the greedy, cowardly, cunning Linebeck sails around the seas of the Great Sea looking for his next big score. Never one to take any unnecessary chances, Linebeck often sees his opportunity to leave when trouble arises. That all changes when he meets Link on Mercay Island. He reluctantly goes along with the little mute scamp, and more often than not, regrets that decision. He shows his bravery though, at times. Hell, his cowardice is understandable - who would want to trust a guy whose only way of moving himself is with the help of a giant stylus pen? A completely hilarious character, this is what Final Fantasy XII's Balthier could have been like they hadn't made him a major ass-sucker. Keep these good new characters coming 'Tendo!
"Are you gonna bark all day, little doggie, or are you gonna bite?"
— Mr. Blonde
Considering Quentin Tarantino is my favourite director of all time, you'd be surprised if at least one of his characters isn't on this page. Reservoir Dogs, the first film by Mr. Tarantino, is a caper flick. Well, not your usual caper flick - it deals with what happens AFTER the crime has been committed. We're introduced to the whole gang; Lawrence Tierney as the "brains" behind the whole operation, Joe Cabot, the late Chris Penn as his son "Nice Guy" Eddie, Harvey Keitel as Mr. White, Tim Roth as Mr. Orange, Steve Buscemi as Mr. Pink, Quentin himself as Mr. Brown, Eddie Bunker as Mr. Blue, and last, but certainly not least, Michael Madsen as Mr. Blonde. All of these guys are downright hard-boiled criminals, but only one of them is psychotic.
Mr. Blonde's first scene sees him acting like the proverbial Zen Master of Calm as his partners in crime squabble amongst themselves about a supposed rat that messed up their jewellery job. He's also drinking a soft drink. He appears to be completely on the level and the most normal of all these guys, but that all changes when his companions leave him alone with the cop they've taken hostage. Mr. Blonde turns on the radio, which is playing that old '70's hit "Stuck in the Middle with You" by Stealers Wheel. Producing a switchblade, he tells the cop that it doesn't matter what he knows or doesn't know - he's gonna torture him anyway. After dousing him with gasoline, he dances a little jig and takes a closer look at the cop's ear with his knife. Immediately after, he is shot by an awakened Mr. Orange. Mr. Blonde's role in Reservoir Dogs is not a big one, but well written and let's not forget to mention that Michael Madsen turns in the second best role of his life (the second being Budd from Kill Bill) in this pure bone-chilling psycho.
"I have nothing. Men fight for me because if they do not, I throw them off my land and I starve their wives and children. Those men who bled the ground red at Falkirk fought for William Wallace. He fights for something that I never had. And I took it from him, when I betrayed him. I saw it in his face on the battlefield and it's tearing me apart."
— Robert the Bruce
My extreme likage of Mel Gibson's epic film about a land's battle against tyranna, Braveheart can be contributed to its fantastic filmography, evocative and downright hilarious script and its amazing battle scenes. However, there are also many other catalysts at work here, one of them being the character of Robert the Bruce, the man who would become King of Scotland, played by Angus Macfadyen.
The Narrator of the film, Robert the Bruce, it appears, is one of the only nobles left in a divided Scotland with any measure of honor. While an honorable man, he is unknowingly being controlled by his disfigured leper of a father, Darth Sidious, err, Robert the Elder. He becomes a big supporter of William Wallace, the film's main character, who instigigates the rebellion against their unwanted english King, Edward the Longshanks. Robert is one of the nobles is respected by both the commoners and the other nobles and has all of the traits needed to become the next King of Scotland; however, he does not really want to grasp this opportunity. While he wants what is best for Scotland, his misplaced trust in his devious father proves most destructive. At one point, he is talked into fighting against William Wallace and his army during the battle of Falkirk, even though he promised Wallace that he would send his men to his aid in the battle. After realizing his terrible mistake, he helps him escape.
Later, his father conspires with the other nobles to summon Wallace to a meeting to capture him, and fools Robert into thinking that the nobles really want to create an alliance with Wallace. After Wallace is captured, he, angered and bewildered confronts his father, who tells him that by capturing Wallace, Robert has become the uncrowned King of Scotland. Indifferent with this, out of disgust, Robert denounces his father and leaves him to die of his fatal disease. After Wallace is executed, Robert is crowned King of Scotland. He is supposed to meet the english army on the fields of Bannockburn to pay tribute to the new english King, the son of Longshanks. However, remembering his dead friend's courage, he makes a fated decision; he draws his sword and together with an army of his countrymen, battle the english and win Scotland's independence.
The character of Robert the Bruce is honorable, yet conflicted and somehow naive. Angus Macfadyen does a fantastic job and really creates a role for the ages. Thank god for those supporting characters!
"Summoners challenge the bringer of death, Sin, and die doing so. Guardians give their lives to protect their summoner. The fayth are the souls of the dead. Even the maesters of Yevon are unsent. Spira is full of death... only Sin is reborn, and then only to bring more death. It is a cycle of death, spiraling endlessly."
— Auron
There are probably some of you out there who wonder where my username came from. For the other part, see the upcoming Tep Ten; Favourite Albums. Well, the thing is, my name is a tribute to the best supporting character of all time, appearing in the best Final Fantasy game of all time; Auron.
Auron is a wandering ronin character who says little, but speaks with the wisdom of the world. A wizened Guardian, Auron makes a promise to his friend, Jecht, to watch over his son, the game's main character, Tidus. This young fast-mouthed whippersnapper proves to be a handful, but Auron becomes more or less a father figure to him, his real father having gone AWOL years ago. However, when Tidus' home city, Zanarkand is attacked by an enormous beast inside a bubble, Auron and Tidus manage to be sucked into the monster and wind up in a strange new land known as Spira. Lost in this new world, and with Auron nowhere to be seen, after a series of unfortunate (Sue me Lemony Snicket!) events Tidus becomes the Guardian of Yuna, a young girl who has devoted her life to become a Summoner; the only ones with the power to defeat Sin, the aforementioned beast. Auron appears again in the country's biggest city, Luca. He joins the ever-growing group of Guardians once more. During the tale, Auron reveals many downright earth-shattering truths and plot twists; Sin is Jecht, Tidus' father; the religion of Spira, Yevon is using their beliefs to control and foolthe people during their neverending torment (sound familiar?) and much much more. His backstory, once a young swordsman travelling with Braska, Yuna's father and another Summoner, and Jecht is explored through various sphere recordings found around the world of Spira. During the game's final stretch, it is revealed that after Braska sacrificed himself to destroy Jecht, out of frustration that Sin will just reappear anyway, he attacks Yunalesca, a spirit guarding the place of the Final Summoning, the event which killed Braska and is struck down and killed. However, he lives on in Spira as an unsent. After the destruction of the being inside Sin, Yevon, their 1000-year torment is over and Auron can finally pass on to the spirit world.
Now, this small plot synopsis cannot possibly do justice to the awesomeness of Auron; it has to be explored and enjoyed by yourself. Auron has so much good dialogue in this game, even Tarantino would be jealous. The stalwart and completely baffling Auron is mysterious, badass and somewhat unnerving. Needless to say Auron is the best supporting character of all time. Hmph.
Best duos
Ah, yes. Sometimes two can achieve what one cannot. Making babies, for example. Err, yeah. So, duos kick ass. Check out my favourite "power couples" right here, courtesy of the Zeldapedia, LLC.
Now, I was originally gonna put Indiana Jones and Short Round from Indiana Jones and the Temple of Doom here, but I remembered how annoying that kid is. Anyhoo. Indiana Jones and the Emperor's Tomb is a very underrated game. It constantly gets the bad game rap because of its jerky clipping and stuff. I personally like it. A lot. I mean, what bad could you possibly have to say about a game that allows you to utilize chairs, wine bottles and (yes!!!!!!) table legs to beat up Nazis? You tell me.
Anyway. Breaking from the stereotype, Mei Ying is not your average damsel in distress. Not only does she speak broken english, she can also kick serious karate ass, "Jade Phoenix" style. A complete opposite of Dr. Jones' style of...kicking ass. You know, it's just not refined. No matter, kicking ass teamwise with her is a dream. Of course, many of her kicks are completely uncontrollable and may wind up hitting you, but still. Also, she almost can't finish off enemies, leaving that stuff to you. Well, good thing she's asian and hot then to make up for that. It's like Rush Hour, only none of them is an annoying afro-american. Aiight?
If you do not like the D, you have a problem, or just a better taste in music than do I. Jables and KG are the masterminds behind "Tenacious D", the first ever independent "mock rock" band that rose to prominence. Only problem is, the songs they write are better than 70% of "real" rock songs. The best combination of humour and music since the late great Frank Zappa.
Jack Black writes incredibly catchy, groovy and downright hilarious songs. From the epic "Tribute" to the eerily prophetic "City Hall" to the tender "Baby" (I can play it on the guitar!) to the exercise in futility (for every other artist ever) that is "Beelzeboss (The Final Showdown)", the 100% win climax of their first feature film, Tenacious D in: The Pick of Destiny. While too much can get incredibly overbearing, Tenacious D manage to entertain you in ways not previously thought to be possible. And if you're not down with that, we've got two words for ya.
MISTEEEEEEEEEEEEEEEEEEEEEEEEEEEEEEEEEEEEEEEEEEEEEEEEEEEEE....errr....hang yourself.
The Matrix kicks ass. Although its sequels does not do the original movies justice, they still are damn fine movies if you think relatively. Reloaded is my favourite of the two sequels, because it retains the pseudo-prophetic/religious/whatzits feeling of the first movie and still manages to be a hard-hitting, dramatic and kick-ass ownage-fest. This is in part to the appearances of the two twins known simply as...*drum roll* THE TWINS!
Servants of the Merovingian, a rogue program utilizing his situation to obtain luxuries and crap in the simulation of the "real world" known as the Matrix, the Twins are two albino rastafari guys. While this alone would seem mind-blowing, they also have the ability to transform themselves into molecules, making them invulnerable and untouchable. They prove to be a heck of a handful for the protagonist Neo, his cheap slut girlfriend Trinity and the token black prophecy guy, Morpheus. They're so confident in themselves that they don't even display fear. Okay, they may be programs, but Neo is like, the One. Meaning he can kick program ass with authority, unlike other regular humans plugged into the Matrix. That should make some programs crap their drawers, I assure you.
Not these guys though. At one point, one of them blocks a door with his arm, only for Trinity to shoot it. The Twin doesn't even feel the pain and transforms himself into molecules, both removing the bullets and healing the "injury". At this point, any regular wuss would cry and give up, but not Morpheus, Neo and Trinidad. After a thrilling highway chase, where more than one time, the Twins utilize their magical molecule ability to nearly kill them, Morpheus finally finds out their one weakness; An exploding car. He promptly causes their stolen automobile to "capsize" and slices the cables and stuff found on the bottom of a car, which as we all know, causes cars to explode in films. The Twins ousted, they then get on with the more boring and pointless part of the film.
The Twins don't have a large role in the film, but their appearance is memorable enough to secure them a spot in the Duo Hall of Fame.
VII. Meriadoc Brandybuck & Peregrin Took (The Lord of the Rings)
What dynamic duo section would be complete without the two wackiest hobbits in the history of...hobbits? Surely, mine would not. Now, this is mostly based on the book appearances, but there's a few nods to the filmatic masterpieces as well.
Well, yeah. Meriadoc Brandybuck and Peregrin Took, Merry and Pippin for short are just about the biggest troublemakers of the hobbit race; a small, peace-loving, quaint race of "halflings". Stealing food from the farmers around the Shire, telling tall tales and drinking ale is what these do best. Or so it would appear. When Frodo, their life-long friend and Pippin's cousin, receives an old ring from his adoptive uncle, Bilbo Baggins, things start happening. Turns out, this ring was created by the great evil Darkie Sauron thousands of years prior to the events of the book. If reunited with its suddenly reappearing master, it will spell the end of the world. Or at least the quaint world of the hobbits. So naturally, Pippin and Merry join his quest to bring the ring to the elven haven of Rivendell. They of course almost screw up Frodo's undercover mission, but they survive. In Rivendell it is decided that the Ring must be taken to the evil land of Mordor, and the fiery mountain, Mount Doom that is located within that dark place. Frodo, his "gardener" Sam, Merry, Pippin, Gandalf the Wizard, Gimli the dwarf, Legolas the elf, Boromir the human and Aragorn, a descendant of the Dunedain and heir to the throne of Gondor, and thus, all men, become the "Fellowship of the Ring" whose mission it is to see the ring safely to Mordor.
On the way, of course, Pippin manages to awaken a Balrog, a fierce mysterious evil ownage creature and Merry, well, can't remember right now. At one point, the Fellowship is broken apart by evil forces and Merry and Pippin are taken away by the Uruk-Hai, a fierce warrior-race manufactured by Saruman, a powerful wizard who has turned to the Dark Side. They eventually manage to escape and come upon Treebeard, a tree spirit. With wit and cunning (you can't write a fantasy novel without including these words in that order) they manage to convince Treebeard to summon the rest of the Ents to attack Isengard, the stronghold of Saruman. They are successful at this and steal the wizards stock of food and tobacco. They are eventually separated, but the two jolly friends are eventually reunited.
These two goofballs provide the much needed comic relief in a book series as dry as The Lord of the Rings. Always a great line here and there, and a carefree disposition brightens the day in this otherwise dark epic. Also masterfully played by Billy Boyd and Dominic Monaghan in the film adaptations, these crazy hobbits outshine many of the many, in my opinion, blunt and unrealistic, personality-wise characters in the book. And yeah, they do come in pints.
Yeah, I like animated films. Big whoop, you wanna fight about it? Anyways. I can suspend my omnipresent dominant male persona at times and turn into a kid again when I watch 'em. Yeah. So I'm weird like that. But The Emperor's New Groove may be one of the best animated, nah, scratch that, best comedy films of all time.
Basically, it's the Odd Couple all over again. Kuzco is the spoiled, egotistical and wisecracking Emperor of Peru or whatever. Pacha is a sort of simple-minded farmer. After Kuzko is transformed into a Llama after a really foiled attempt on his life by his evil walking skeleton of a fashion consultant or whatever it is she is again. This alone creates lots of humourous situations, but its their transformation from squabbling duo to tightly working team is the best part about them. On their journey, Kuzco learns to see the more important things in life. When they're in danger, they work together to solve their problems. That's just...that's just cool. For instance, a scene at a restaurant where Kuzko the Llama disguises himself as a woman on her honeymoon with Pacha. Hilarious.
Best beat 'em up character
Fighter games. You've gotta love 'em. While more often than not not as engaging or deep as the more cerebral aspects of gaming like certain RPGs, it's good to just let all your weak fantasies about a peaceful world of love get flushed and beat the crap out of somebody from time to time. A good way to pass the time, and to kill your emotions. Certain characters in fighter games rule more than some, however. Let's get to it here.
X. Princess Peach (Super Smash Bros. series)
You know, as fun as the Super Smash' Bros. games are, they sure get old fast. Call it repetitiveness. Call it lack of motor skills to play at the more advanced difficulty level. Call it lack of any real friends. But either way, both the original Super Smash Bros. and Super Smash Bros. Melee were fun for about a week for me before I stopped playing them at all. A fighter game featuring cute cartoon violence between your favourite Nintendo characters does kick ass, however.
For some reason I really play good when I use Princess Peach. You know, the cute dainty princess that always gets kidnapped by Bowser in the Mario games. While she does not have the physical strength or striking power like some of the other characters available on the roster like Mario, Captain Falcon or Samus, her jump ability is one of the best in the game. She can jump hella high and stay in the air for a long time. That's good because I personally play with more of a defensive style than most. Her other weapons include her parasol, a golf club and a frying pan. She's quite a good character to say the least. Definitely the one most easily adaptable to my playing style. Besides, she's hot. Well, you know, as video game characters go. At least she has class.
IX. Cammy White (Street Fighter II: The New Challengers)
Speaking of class, Cammy White of Street Fighter fame has little of that but more of an attitude. With her yellow ponytail hair, extremely athletic physique while retaining the female form and agile moves, she's agile, ruthless and deceivingly lethal. Did I also happen to mention that she's an army brat?
Cammy is one of the new characters introduced to one of the like three different versions of Street Fighter II, that being The New Challengers. She's definitely the pick of the litter of the somewhat sub-standard "new" characters available in the game and remains to this day my favourite Street Fighter character. During her quest in the game to defeat the evil M. Bison on behalf of a special resistance unit she's a part of, we discover her past. She's actually a victim of amnesia (how original isn't THAT plot convention?) and was once the lover of M. Bison. Cool stuff. While not revolutionizing or in any manner a deep backstory, it's at least better than some of the other more comic ones the other characters have.
Cammy rules, and could easily hold her own against any male fighter out there. You don't wanna mess with her, that's for sure. Oh yeah, and ignore the fact that Kylie Minogue played her in that godawful Street Fighter film. I know I repressed that memory.
VIII. Narcis Prince (Super Punch-Out!!)
Super Punch-Out!! is one damn awesome game and the best boxing game known to man. The game, the sequel to the original Punch-Out!! for the Nintendo Entertainment System also makes for one of the best sequels ever, taking the best parts of the original game and improving them, while mixing in new stuff. Basically, the story in the game is you play this up-and-coming boxer whose name I don't really know right now. He's gotta box his way through the small, independend loser circuit before going to the big time and facing the really tough opponents. There are humourous characters like Bob Charlie the rastafarian, Mr. Sandman and Super Macho Man, who all have their quirky personality traits and sick signature maneuvers. But the best of these characters is Narcis Prince.
Yeah, as if you couldn't tell by the name, Narcis Prince is a vain, narcissistic pretty-boy who for some reasons is one of the best boxers in the game. He's always got that goddamn stupid smirk on his face and if you're unprepared he's gonna hand his ass to ya. But he has one weakness...if you manage to hit his face, he completely snaps and loses his concentration, allowing you to get good hits in before his manager tells him to get his crap together and start being serious about fighting you again. No, he's not on this list because he's a formidable opponent - in fact, he's one of the most easy-to-beat characters in the game, not like Nick and Rick Bruiser, the penultimate and ultimate fighters in the game. But he's incredibly random and fun to fight. One of those that I like fighting. Basically, he's just the best over-the-top character in the game.
VII. Lei-Fang (Dead or Alive)
Say what you want about the cheesy and disgusting sexism of the Dead or Alive game series, but the battle engine and gameplay are a rush to say the least. Hell, I don't mind some pixelated hotties either. And the storyline's better than Halo anyway. Now basically what the Dead or Alive games are all about is that you try to win some sort of tournament by beating people up. Original, huh? You wouldn't think that old idea would still sell well, did you? Wrong. Thanks to the ingenious creators of the game, the Dead or Alive series boasts a very unique feature. A developed breast physics engine. Now before you call me a creepy bastard (it's my middle name!) I basically play because the fighting system is actually quite good. And the chicks are hot. Oh yeah, but out of those available in the game like Tina the female wrestler, Kasumi the ninja (and her creepy sister Ayane) and Helena the opera...something, there is only one queen of the gangsters. And that would be Lei-Fang.
VI. Johnny Cage (Mortal Kombat II)
Mortal Kombat II. My first meeting with the concept of ultra-violence, at age 9. The horror. That kind of explains a lot about my current state of mind...MUHAHAHAHAHAHHAHA!! Err, yeah. Well, I got that game together with a bunch of other games when my family bought a used Super Nintendo from my next-door neighbour. My first gaming console. Naturally, my family never told me that they bought MKII and Double Dragon V: The Shadow Falls (which sucks, by the way!) but I found the games hidden in a closet and played them anyway. I put it in my machine and my innocence died. The horror. Skinny ninja women with bandanna things covering their mouths, a demon fighting with sharp pointy swords, levels with spikes in the ceiling and a pool of acid...I tell you, it blew my mind. Of course, after a while I got the hang of the game, learning on my own accord how to perform super moves like Raiden's "BARA BARA KAWWWWWWW" fly attack and Liu Kang's bicycle kick, complete with messed up "Karate" yells. But what really sold me was Johnny Cage and his...split-legged low blow.
Johnny Cage is a movie star turned fighter, with so much cockiness it's unbelievable. Sweet-looking athletic moves like the weird kick and elbow attacks followed by green silhouettes of the guy and both a high and low energy ball attack. But as I mentioned before, his greatest move is the...split-legged low blow. I believe the first time I saw that was my first proper "LOL" gotten from playing a game, and I didn't even know what "LOL" meant at the time. I lost the match because I was laughing myself to death of course, but what difference did it make? It was awesome. Not to mention that it's one of the most damaging moves in the game AND it stuns the opponent for a while for...obvious reasons. It can't be used on the female characters though. To top off this great character, he also has one of the most unique "Fatalities" (after your opponent's health is completely gone, you can take advantage of his near-unconscious state to kill him/her in several unique ways); an upper-cut attack that removes THREE heads from the shoulders of your opponent. I LOL'd again. What more is there to say?
Sadly, the Mortal Kombat series all went to pot after this installment of course. They just found the perfect balance between gore, good gameplay and great graphics (even today, they look stunning!) in this game. It's pretty much my favourite fighter game of all time. More MKII characters to come, be you sure.
V. Muhammad Ali (Knockout Kings 2000)
I don't claim to be a big fan of boxing, but the Nintendo 64 game Knockout Kings 2000 is still a fun game to this day. Semi-realistic 3D models, realistic "fight" atmosphere with commentary and announcing and all, smooth gameplay and slick controls are just some of the features this game boasts. You can choose between a roster of past and (at the time) present fighters, featuring light-heavyweights, middleweights and heavyweight boxers. Each guy comes with their own set of signature combination moves and different skill levels and advantages such as reach, weight and height and stuff. Pretty neat. But the greatest thing this game has to offer is that you can play as The Greatest of All Time, Muhammad Ali. You know, the guy who today struggles with constant pain and neural damage. But boy could he ever fight!
Needless to say, Ali's got the best moves, attributes and model in the game. Trust me, if you know how to work the game, you can beat anyone with Ali. He has the fastest head punch/gut punch combo in the game, which is hard as hell for the AI to block. And it deals a lot of damage. But his one lethal weapon is the legendary Snap Jab. 50% faster than any regular jab in the game. (even faster than Kevin Kelley, the fastest guy in the game!) If you know how to conserve your stamina (executing signature moves cost stamina) you can beat anyone by using exclusively the Snap Jab in a fight. And if you wanna rub it in, another one of his signature moves is his famous "Fly like a Butterfly, Sting Like a Bee" dance. Humiliate your opponent with the dance, make him go mad and WHAM!, punch him out with the Snap Jab. Godlike. And don't forget, you can beat up on Light-heavyweights within half a round if you want to. It's just that much fun.
Ali's WAY overpowered in the game, but nobody cares. Every game needs its one overpowered character. Knockout Kings 2000 is a fun game that I replay every now and then, especially if I have a friend over. Then of course I kick his ass with Ali.
IV. Kabal (Mortal Kombat III/Ultimate Mortal Kombat III)
Yay, another Mortal Kombat character. And this time, it's a mysterious dude who lives on life support. That's right; Kabal. No, not related to the card game whose name is similar in Norwegian. Kabal was once in an accident or something and in addition to being horribly scarred, was forced to live a half-life on the outskirts of human existence. In order to escape death and attain his revenge for this disfiguring injury, he obtained some sort of weird gas/life support mask. Then he travels to the Outworld to kick ass and get revenge. Or something like that...hey, it's not like any Mortal Kombat characters have good, developed backstories anyways.
In battle, Kabal wields these long sword-like knives, sort of similar to forks or something like that. These can be used to harm people. In addition to this, with his weird life support-powers, he can summon purple saw-blade like things from the ground. Also, he has this aerial attack (that the CPU LOVES to overuse whenever you play 1 player mode) where he fires purple energy at an opponent. Lastly, he has this "super-block" attack that nullifies just about any ranged attack. As far as fatalities go, he has one where he takes off his mask, revealing his nastily scarred face. This, of course, scares the opponent so much that his soul leaps out of his body. I guess somebody never saw Michael Jackson in recent times...
Anyway, Kabal is one of the only characters in the post-Mortal Kombat II era that is any good at all. Got a good flow to him and just weird enough. Awesome.
III. Kung Pow (Clay Fighter 63 1/3)
Clay Fighter 63 1/3 (this pun served as their major selling point) is a weird comedy fighter game for the Nintendo 64. Lots of corny, cheesy '90s humor that nobody really finds funny. However, what it did have was a really smooth, fun gameplay system; containing the best features of Killer Instinct and the Mortal Kombat series with a better control system. Once you get hang of the combo system (which is quite technical) it's all good fun. The game boasts such *hilarious* characters as Sumo Santa the...sumo wrestler Santa, Houngan the Voodooman, and even a few cameos by Earthworm Jim and Captain Fart or whatever the hell he's called. But out of those, is a character whose awesomeness permeates the game; Kung Pow, the Kung Fu Master/Chef/Cruise Ship Guide.
At first glance, Kung Pow is your stereotypical Kung Fu guy, with a weird Wapanese accent, a bucktooth and a bowlchop. You couldn't be more...right? Err, anyway, he's an awesome character. In addition to many cool Kung Fu style moves like The Crane, The Monkey and The Bear, he incorporates his cooking abilities into play, fighting with chopsticks, wok pans, and meat cleavers. He also has powerful multi-hit auto-combos like Pork Fried Rice and Lo Mein. Heck, the guy can even crawl along the ground inside a wok pan. Not to mention that he has awesome auto-finisher-combos that incorporate his diverse arsenal. And hey, when your opponent is on his knees and begging for mercy, you can utilize his multiple "Claytalities": chop 'im in half (don't worry—it's just clay!) with his meat cleaver, jump fifty feet up in the air and stomp on him or do the ultimate karate chop, hitting him about 100 times, leaving nothing behind. It's just an over-the-top character, like all the others, but it's fun playing as Kung Pow.
II. Hardcore Holly (WWE SmackDown! series)
Now, you wouldn't go and think I would finish this list without an entry dedicated to the awesome WWE SmackDown! series? With its fun, realistic, fast-paced gameplay, pretty decent story modes and hours of fun, it's no small wonder they sell as well as they do. Complain as much as you like about "getting the same sh*t every year", I've always been a fan of SmackDown! and I always will. Most of the time, they pack reasonably stacked rosters into the games; more or less being accurate portrayals of the roster that year in WWE. But none of that matters if Hardcore Holly is in the game.
Everyone's favourite embittered Alabaman, Bob "Hardcore" Holly's overall is always crappy, as his his in-game crowd response. But who cares? It takes real skill to use a mid-carder and succeed; not everybody's a boring lame-o who chooses Undertaker, Cena or Triple H. Holly's movesets is always more or less accurate; being one of the last old school guys who managed to make 80's style wrestling look good, Holly always has many good "old school" moves in his set, in addition to his trademark stiff backhand chops, menacing powerbombs and piledrawers and *the* best damn dropkick in the business. He almost always has a pretty good Hardcore rating as well (duh?) so putting him in a heavy stipulation match like the Hell in a Cell, TLC or Table match is a blast. And before they reanimated it to look crappy, his finisher, the Alabama Slam, was to die for. One of the most consistent characters in the series, and a genuine God.
Now released from his contract and not likely to ever appear in the SmackDown game ever again, things do look bleak for a Holly mark like myself. But as long as the create modes keep improving, perhaps someday one will be able to make a perfect Holly created wrestler to make up for the inevitable lack of depth in the rosters of future games. Godspeed Bob!
I. Sub-Zero (Mortal Kombat II)
We've arrived. At the very top of the food chain in fighting game stands Sub-Zero; a mysterious ninja who has control over the element of ice. The definitive badass in the fighting game genre. Nothing comes close. Sub-Zero is the most well-balanced, awesome fighter character to see the light of day? Enough shills, let's break it down with the help of pythagoran math.
Sub-Zero is a ninja clothed in blue who can use his ownage-powers to freeze his opponent for a short while, allowing him to do ANYTHING during the short while (which leads to funny ideas in one's mind in battles against Kitana and Mileena) until they thaw. This can be done to almost EVERYONE. At ANY POINT. This gives Sub-Zero the proverbial ace-in-the-hole that no other character has. In addition to this, Sub-Zero can produce small "pools" of ice for enemies to slip and fall on. This also stuns them for a little while. As for the rest of his attacks, he has this sweep attack that all the Lin Kuei ninjas have. As for his fatalities, he has the most button-heavy one in the game. First, you must freeze his opponent and THEN do another series of button moves to shatter him/her into tiny pieces. His second one, which can also be used in conjunction with the freeze stage of Fatality #1 allows him to create a small, ice-packed "grenade" that he throws into his opponent; causing them to explode. As a final note, Sub-Zero's Friendship has him breaking the fourth wall and asking, no wait, ORDERING you to buy a cute little Sub-Zero doll that he displays. You can't get much more badass than that.
Also, Sub-Zero is one of the most frequently appearing characters in the series and by all means, the most consistent character. Sub-Zero = awesomeness in every aspect of the word. When I go, I wanna be frozen, too.
New Breed
Yeah, and now we get on with these shorter lists just 'cause I feel like it. Blame it on the boogie.
Film Soundtracks
Aye, an underrated facet of a film-making is a good soundtrack, which, when used properly, can really enhance your film and make it even better. Hell, you can even spruce up your cookie cutter summer blockbuster movie with some cool licensed tracks from famous (or as is the case nowadays, boring emo) artists. Some soundtracks have even become so iconic that most people know them by heart and have ingrained themselves into the collective consciousness. Let's check out some cool ones 'ere.
X. James Horner - Braveheart
Well now, another entry dedicated to Braveheart? You might've known. One of the most gripping aspects of this fantastic movie is its soundtrack, which is suffused with Celtic (not the Boston Celtics) instrumentalization and the magnificent musical flourishes of Horner's composition style. Several leitmotifs appear throughout the soundtrack, the most prominent being the main title theme, played on bagpipes. The opening track on the soundtrack album, it immediately evokes that first breathtaking image from the film; the majestic mountains of Scotland, and really sucks you into its atmosphere. The highest point of the soundtrack is the 8-minute long final piece, a musical representation of Wallace's tremendous display of courage during his public torture and beheading, and the Scots' battle for freedom on the fields of Bannockburn. Unlike most of the soundtracks to be featured in this list, however, it's not as much of a "listenable" soundtrack. It is perfect for the movie, but isn't something I listen to a lot in my spare time. Still, fantastic when watched together with the film.
IX. Various Artists - Watchmen
Well, as mentioned before, Watchmen is one of the best comic book adaptations ever to me, and one of my favourite films. A notable factor in this is the wonderful soundtrack. The film's score is written by Tyler Bates, but isn't really listening music. This collection of songs used in the film though, is great. To comply with the film's 1985 setting, no music on this album is newer than said year. Many of the songs are well-known classics from the 60s and 70s, used exceptionally well within the film's narrative. Aside from one major mistake, being putting a horrendous Bob Dylan cover on the album, there isn't really much bad I can say about this. Nat King Cole's "Unforgettable" is a classic crooner ballad with string flourishes and all that. Love that old music, man. Used in the opening scene, where The Comedian fights for his life. Next, we have the soundtrack of so many protests as well as the movie's opening credits, which is one of my personal favourite opening titles of all time (that's right, there'll be a top ten list concerning that in the future) which is of course, Bob Dylan's "The Times They Are A-Changin'", with its archetypal revolutionary lyrics, easy chords and mean harmonica, all tied together with Dylan's raspy voice. The remainder of the album is filled with songs like Janis Joplin's "Me and Bobby McGee", KC and the Sunshine Band's "I'm Your Boogie Man" as well as Jimi Hendrix's mind-blowing cover of Dylan's "All Along the Watchtower". Aside from these classic songs, there are also two orchestral pieces; the omniscient "Ride of the Valkyries" and a piece of the score for the meditational art film Koyaanisqatsi, written by Philip Glass. Ethereal and mysterious music that is used perfectly within the film — in the complex scene where the demi-god Dr. Manhattan reminisces about his past. As one final laugh, Nina Simone's "Pirate Jenny" is a weird song from Brecht and Weill's Threepenny Opera, and is used in the Black Freighter animation short that is to be spliced into the film's narrative in the ultimate release sometime in the future. A great, eclectic set of music that fit the Watchmen mood to a tee.
VIII. Various Artists - Sweeney Todd, the Demon Barber of Fleet Street
My all-time favourite musical, a genre which is sort of and sort of not a guilty pleasure to me. I always liked the Broadway productions, but I think it is greatly outdone by the film adaptation by Tim Burton. Many of the musical's comical elements are traded for a more serious take on the tale of a tormented barber who slices people's throats and bake them into pies. Instrumentally, the score is filled with many haunting leitmotifs on strings, with a very brooding, organic sound. However, this is greatly outdone by the vocal performances of one Johnny Depp, whose voice indeed helps make the Sweeney Todd character better than by previous interpreters. Generally, everyone in the film who's given a singing role do a great job; Helena Bonham Carter is great as the frilly and sometimes chilling Mrs. Lovett, who does the aforementioned pie-baking, and particularly excels in numbers like "The Worst Pies in London" and "A Little Priest". Alan Rickman, being the "villain" (although the same could be said for Todd, I guess) Judge Turpin, uses his nasal voice formidably well here, and there is some really good chemistry between Depp and Rickman in the beautiful and creepy duet "Pretty Women". Heh, even Sacha Baron Cohen, of Borat fame does a hilarious little cameo as the pretend-Italian Pirelli. One of those albums that can be listened to equally both in the context of the film and outside, and has a great flow. No numbers from the original stage production are really missed, and the added musicians help bring out the best in Stephen Sondheim's musical masterpiece. Delish!
VII. Various Artists - Death Proof
Death Proof may not be Tarantino's best movie (actually, it's his worst...but you know, this is in relativity, since Tarantino is miles beyond pretty much any other filmmaker anyway) but at least it had a rockin' soundtrack. As is usual with a Tarantino soundtrack, the song selections are eclectic and usually have no connection at all; mostly chosen if they fit into a good scene somehow. Anyways, it starts out with the main title track, "The Last Race" by a guy called Nietschze-something — an adrenaline-saturated opening theme to be sure. This segues into an awesome cover of "Baby It's You" by Smith, whose leader singer (whose name I cannot remember right now) has a really great, Janis Joplin-like voice. Other notable songs on the soundtrack include some cues from Ennio Morricone, the undisputed master of film music whom shall be discussed later in this list, as well as the pure-pop ecstacy that is "Hold Tight!" by Dave Dee, Dozy, Beaky, Mick and Tich. Glamrockers T.Rex kick some ass with the decadent "Jeepster", and forgotten 50s band The Coasters bring us the soundtrack to the hottest lapdance scene, like, ever with "Down in Mexico". And 70s interracial group Pacific Gas and Electric bring us redneck blues on a really high level with "Staggolee", with about the meanest harmonica of all time. The soundtrack doesn't always feature music that I listen to regularl, but for some reason it works in context. If Death Proof had nothing else (it DID have Kurt Russell and hot chicks though) at least it had the best soundtrack Tarantino has made.
VI. Alan Menken - Little Shop of Horrors
Another great musical adaptation here and one of my favourite comedy films of all time, being the twisted tale of a down-on-his-luck flower shop assistant who finds fame and glory when he discovers a strange, fascinating new plant...which of course turns out to be jive-talkin' carnivorous alien from outer space voiced by Levi Stubbs, Jr. (May God have mercy on his soul.) Hilarity ensues. The film is ripe with good-natured goofy 80s humor and succeeds where other films of the same genre might not have, partly due to its fantastic soundtrack. Heavily rooted in 50s doo-wop and other genres of the same type, it's a multi-faceted collection of songs of which I can say nothing bad. Not only are they catchy, they're also well-made and work exceedingly well as plot exposition.
"Slick" Rick Moranis (so named due to his affinity for playing loveable losers to perfection) who plays the part of Seymour does some great singing here, surprising whomever listens to it, particularly in "Skid Row (Downtown)", the song that establishes the suffering and poverty of its skid row setting. Also singing is the lovely(?) Ms. Ellen Greene who plays Seymour's dainty love interest who has self-esteem issues. While her (really) high-pitched voice can get a bit grating sometimes, it shines through in the soundtrack's most powerful tune, "Suddenly Seymour", a beautiful duet in which her voice actually changes for a little bit. A hilarious cameo appearance by Steve Martin as the sadistic dentist, who has a great Elvis-like parody in the track "Dentist!". Additionally, the mysterious three black girls who play the part of the mysterious back-up singers also have nice chemistry here; but the star of the show is the inimitable Audrey II, voiced by the aforementioned deceased Levi Stubbs Jr. A sassy, groovy and mean-tempered evil plant to be sure, the voice casting of Audrey II is surely one of my all-time favourite ones. So many fantastic tracks on this album, and they work even outside of the context of the film. Grooviest musical adaptation ever, beeyotch.
V. Ennio Morricone - A Fistful of Dynamite
Yes, you knew it had to come eventually; Ennio Morricone is, after all, the supremely greatest soundtrack composer in the history of music. Nobody can dispute that. A stalwart veteran of the film score composing world, mr. Morricone has made too many good soundtracks than what should be possible. Adding to that, he's versatile, often using uncommon instrumentalization on his songs; this, of course, being more the case in his western scores than most of his other work, yet it is for this that he is best known. One of Morricone's Great Scores is the soundtrack to Sergio Leone's A Fistful of Dynamite (also known as Duck, You Sucker!) a vastly underrated film that is often overshadowed by his other work. While the film is not his best, it's still a one-of-a-kind masterpiece; a tale of the cruel Mexican revolution as well as the friendship between two quite different men. As if the fantastic script, characters, casting and cinematography isn't enough, it's also got a fantastic soundtrack. Somewhat different from his scores for other Leone films, there is very little Western influence in the soundtrack; rather, the main leitmotif is a lofty, carefree whistling song, that somehow in its magnificence manages to be both uplifting and sad; a proof of his Mastery.
Aside from various variations of this theme, which validates the soundtrack on its own, there are also some great suspense pieces. Morricone's suspense pieces typically aren't as musical (read: easy listening) as his others, but the track "Amore", featuring a lonely almost atonal whistling, echoes a vast loneliness, perhaps symbolizing the loneliness within Rod Steiger's bandit Juan Miranda. Another great moment is the melancholy "Mexico e Irlanda" in which traditional South American guitar playing meets a vague Irish sound. The centerpiece of the soundtrack is "Invenzione per John", a mystical journey of a song that manages to grab hold of you and put you right there in those dusty, empty, warm plains of Mexico, with a surprisingly Native American-inspired sound. Some films have soundtracks that add another element of enjoyment to a film; Morricone's scores manages to create a whole dimension as captivating as the films it accompanies.