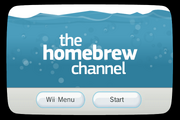 The Twilight Hack is the name given to the exploit found by Team Twiizers of Wiibrew.org in The Legend of Zelda: Twilight Princess that permits homebrew developers and everyday users to run unofficial homebrew software from a SD card inserted into the slot on the front of the Wii. This is the first way found to boot homebrew software without the use of hardware modifications to the Wii console.
Overview
The hack exploits a buffer overflow error, caused by loading a specially crafted save file for Twilight Princess. The save file stores the name of Link's horse in the game, Epona. This save file presents a name much longer than expected to the Twilight Princess game, which causes the Wii system to crash when it tries to load the horse's name. With this crash, the system is made to run a loader program (which was loaded by the game as part of the name) instead of Twilight Princess's code which then proceeds to load a program from the Wii's front SD card slot. Any program that is placed on the root of the SD card with the filename "boot.elf" will run.
Numerous applications have been written that can be run using this method. Since the hack loads an application through a glitch in Twilight Princess, the game must be loaded each time the user wishes to run a homebrew application. Certain programs have been made to install custom Wii Menu channels, so that the applications can be run from the Wii Menu instead of the Twilight hack.
Nintendo's intervention
On June 16, 2008, Nintendo released Wii Menu update 3.3 which automatically deletes and prevents the further storage of the unauthorized save files. However, within eight hours of the update's release, community members found two bugs in the update that in conjunction can allow a slightly modified Twilight hack to operate and has released a new version of the hack that will work on machines that have updated to 3.3.
External links