Twilight
Talk

7
4,761pages on
this wiki
"You don't have to look so sad! We actually find it to be quite livable! I mean, is perpetual twilight really all that bad?"
— Midna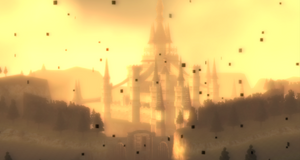 Twilight is matter originating from the Twilight Realm that plagues Hyrule during The Legend of Zelda: Twilight Princess. The self-proclaimed Twilight King, Zant, was granted power over twilight by Ganondorf in exchange for his body being used as Ganondorf's spirit's host. Twilight covers the land, reducing Hylians to spirits and giving shadow power to various enemies. Eventually, Link restores power to the Light Spirits of Hyrule, cleansing the land. The twilight disappears completely after the death of Zant.
When a normal person enters the twilight, he or she, if not a twilight creature or any other evil monster, is usually morphed into a spirit. However, the Hero of Twilight takes shape as a "divine beast" to signify he would be the one who would save the two worlds, the Twilight Realm and the Light World.
Midna makes it clear that in order to enter a place where twilight lurks, one must be a creature of the twilight or have a twilight creature take them inside it. Midna also states that not many people can leave the twilight easily. When a person is transformed by twilight, according to the Light Spirit Ordona, it is usually not possible to regain their true form. However, awakening the Light Spirit in that region will accomplish the task.
Twilight creatures use the aid of portals to transport in and out of the twilight. Midna, Ganondorf, and Link, to a certain extent, have the ability to change into twilight and use it to warp. Using twilight, Ganondorf took over Princess Zelda's body.
Towards the beginning of the game, twilight covers most of Hyrule, but has not yet spread to Ordona Province and the surrounding area. As the Hero Chosen by the Gods, Link painfully undergoes the awakening of his "divine beast" form (a wolf) which he is forced to maintain whenever in a twilit area until he gains the Master Sword. Over the course of the game, Link clears Hyrule of twilight in large chunks by awakening Light Spirits.
"Twilit"
Twilit is a term used to refer to bosses, people, and enemies powered or altered by the effects of Twilight. Twilit beings are created by Zant, corrupted by pieces of the Fused Shadow or Mirror of Twilight, or are transformed by Twilight itself when it encroached on an area. Examples of Twilit beings include the Twilit Arachnid, Twilit Bloat, and Twilit Bulblin.
Beta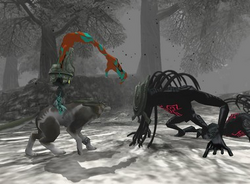 The original concept of twilight was vastly different from the twilight that made it in the final version of Twilight Princess. Instead of being yellow and golden, the twilight was originally a colorless realm of black and white. Only the characters themselves had any color. This was changed for unknown reasons when the game was delayed in the summer of 2005.