This article requires a cleanup to meet Zeldapedia's quality standards.
Please edit this page to improve it. Feel free to discuss this cleanup on the article's talk page.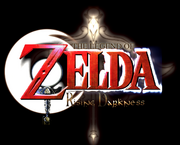 The Legend of Zelda: Rising Darkness is a non-canon fan-film based off of the Legend of Zelda series. The movie began its filming in early 2012, and is still in the filming process.
Synopsis
After one hundred years of peace the Dark Lord Ganondorf is once again released from his prison in the Dark World. He wastes no time in using his dark army to seize control of Hyrule Castle and capture its beloved ruler, the lovely Princess Zelda. Meanwhile a young boy named Link sets out with his friend Faronu to request military assistance from Hyrule's army to help guard his village against the increasing monster attacks. However, when he arrives, he learns of the important part he has to play in the demise of the dark lord and the restoration of light to Hyrule. After a meeting with Zelda's hand maiden Impa he, Impa, and Faronu set out on an incredible journey across high mountains, vast deserts, and even different worlds to complete a mission to bring down Ganondorf and gather allies for the inevitable war against him.
Characters
Link: Link is a young man from one of the outer-most villages in Hyrule. He enjoys his life in his village, and is reluctant to leave his village when he is called to. Little does he know that his destiny is tied to Hyrule's fate because of an ancient curse put on the world.
Zelda: Princess Zelda is the soon to be Queen of Hyrule. Only days before her coronation Hyrule is brutally attacked, and she is forced to make a deal that will do no more then save the world. She has sent her maiden Impa to find the hero that is spoken of in legends.
Faronu: Faronu is Link's childhood friend. His Father is the mayor of their hometown. He is rash in his decisions and has always wanted an adventure, but his adventure will entail more sacrifice than he could have ever thought.
Impa: Impa is princess Zelda's most trusted servant and friend. She is sent by the princess to find the hero chosen by the gods. She is strong, and knows more about Hyrule than many of its greatest scholars.
Valdrick: Valdrick is the second in command over Ganondorf's legions. He is brutally cold, and will go to any means to fulfill his master's wishes. He hopes that the Dark Lord will repay him for his efforts.
Ganondorf: Ganondorf is a centuries old Dark Lord who is kept alive by a stolen relic of the goddesses, and an irreversible curse. He will stop an nothing until he gains power over both the light and dark worlds.
External Links
Ad blocker interference detected!
Wikia is a free-to-use site that makes money from advertising. We have a modified experience for viewers using ad blockers

Wikia is not accessible if you've made further modifications. Remove the custom ad blocker rule(s) and the page will load as expected.