Spirit Train
Talk

29
4,684pages on
this wiki
"This train is a symbol of the spirits. People don't ordinarily ride around in it. But these are no ordinary circumstances. I'm sure the spirits wouldn't mind lending it to you."
— Anjean

The Spirit Train is the primary means of transportation in The Legend of Zelda: Spirit Tracks. This huge locomotive is used to navigate one's way around New Hyrule. Like the S.S. Linebeck from The Legend of Zelda: Phantom Hourglass, the parts of the Spirit Train can be replaced with other parts. Apparently created by the Spirits of Good, the Spirit Train is a powerful, fast locomotive that was placed in the Tower of Spirits and turned to stone, only to be used by a hero in times of danger. Link, a train engineer, turns out to be this hero, and the Spirit Train is his to command. On the front of the locomotive is emblazoned a depiction of the new royal crest, likely owing to the fact that it seems to be the symbol of the spirits.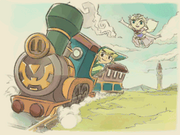 The Spirit Train serves as Link's default train after his Wooden Train is damaged beyond repair from derailing. Initially, it comes with only the engine and passenger car. Later on, when enemies like Bullbos and Dark Trains begin roaming New Hyrule, Alfonzo aids Link by adding a cannon to the train. Eventually, Link finds himself in the Fire Realm and learns that Kagoron requires a shipment of Mega Ice to cool down a recent lava flow blocking the entrance to Goron Village. Kagoron gives Link a freight car to transport the ice to the village. If the Spirit Train collects a Tear of Light in the Dark Realm, it accelerates when the horn is blown.
If a Dark Train or Armored Train hits the Spirit Train, then it would result in an instant Game Over regardless of remaining health.
See also