The Spirit Dress is a Fairy Clothing top option for Companion Fairies from Hyrule Warriors Legends. It is a fairy sized version of Fi's dress and heels.
As it is a one piece outfit, it takes up both the top and bottom fairy clothing slots when worn.
Origins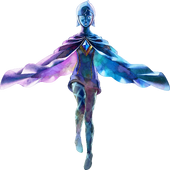 The Spirit Dress is based on Fi's outfit (which includes Fi's Crystal and Fi's Heels) from Skyward Sword and the Hyrule Warriors series.