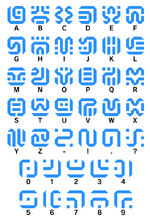 The Sheikah Language is the language used by the ancient Sheikah in The Legend of Zelda: Breath of the Wild. It can be found on ancient Sheikah technology, primarily in Shrines, Divine Beasts and Sheikah Towers. Its written form uses rune-like characters that each correspond to an English character, similar to the Hylian Language and the Language of the Gerudo. The language is said to have originated from the Ancient Sheikah tribe who existed ten thousands years before the events of the game.
It functions mainly as a cipher of the Latin alphabet and as such, much of the game text is translatable and contains hidden messages.
Ad blocker interference detected!
Wikia is a free-to-use site that makes money from advertising. We have a modified experience for viewers using ad blockers

Wikia is not accessible if you've made further modifications. Remove the custom ad blocker rule(s) and the page will load as expected.