Ad blocker interference detected!
Wikia is a free-to-use site that makes money from advertising. We have a modified experience for viewers using ad blockers

Wikia is not accessible if you've made further modifications. Remove the custom ad blocker rule(s) and the page will load as expected.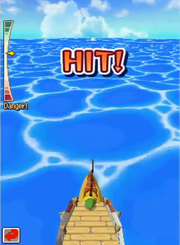 Romantic Fishing is a side quest in The Legend of Zelda: Phantom Hourglass. Link has to find Joanne on Bannan Island, then catch a Loovar, a Toona, and a Skippyjack to get the Big Catch Lure, so that he can catch Rusty Swordfish, and finally find the Neptoona to get a Heart Container.
How to Fish
When a fish shadow is observed beneath Link in the ocean, select 'Fish' under the menu screen. Follow the on-screen directions for when to pull by drawing a line backwards on the touch screen. Watch the meter while pulling; when it reaches a high green level, make circles on the touch screen. Once the meter is in the red, pull back and maintain as straight a line as possible.
Fish Descriptions
Skippyjack
Very small (1' 6" - 2' 6")
Blue/white marks
Very easy to reel
Rarely jumps
Common without the Big Catch Lure/Rare with the Big Catch Lure (2/20)
Toona
Small (3'-4'7")
Red/white stomach
Easy to reel
Jumps frequently
Uncommon/Rare with the lure (2/20)
Loovar
Medium(5'5"-6'9")
Purple-pink/white stomach
Medium to reel
Jumps medium
Common/Common on regular fish spots (9/20)
Rusty Swordfish
Large (11' 11"-12'9")
Purple/blue marks
Hard to reel
Jumps medium
Rare on swordfish spots (7/20)
Neptoona
Huge
Blue/white stomach
Very hard to reel
Jumps range between medium and high
Green pattern on back