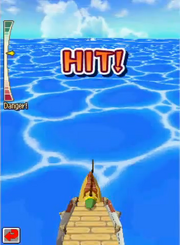 Romantic Fishing is a side quest in The Legend of Zelda: Phantom Hourglass. Link has to find Joanne on Bannan Island, then catch a Loovar, a Toona, and a Skippyjack to get the Big Catch Lure, so that he can catch Rusty Swordfish, and finally find the Neptoona to get a Heart Container.
How to Fish
When a fish shadow is observed beneath Link in the ocean, select 'Fish' under the menu screen. Follow the on-screen directions for when to pull by drawing a line backwards on the touch screen. Watch the meter while pulling; when it reaches a high green level, make circles on the touch screen. Once the meter is in the red, pull back and maintain as straight a line as possible.
Fish Descriptions
Skippyjack
Very small (1' 6" - 2' 6")
Blue/white marks
Very easy to reel
Rarely jumps
Common without the Big Catch Lure/Rare with the Big Catch Lure (2/20)
Toona
Small (3'-4'7")
Red/white stomach
Easy to reel
Jumps frequently
Uncommon/Rare with the lure (2/20)
Loovar
Medium(5'5"-6'9")
Purple-pink/white stomach
Medium to reel
Jumps medium
Common/Common on regular fish spots (9/20)
Rusty Swordfish
Large (11' 11"-12'9")
Purple/blue marks
Hard to reel
Jumps medium
Rare on swordfish spots (7/20)
Neptoona
Huge
Blue/white stomach
Very hard to reel
Jumps range between medium and high
Green pattern on back
Ad blocker interference detected!
Wikia is a free-to-use site that makes money from advertising. We have a modified experience for viewers using ad blockers

Wikia is not accessible if you've made further modifications. Remove the custom ad blocker rule(s) and the page will load as expected.