The Rito Dress is a Fairy Clothing Top option for Companion Fairies from Hyrule Warriors Legends. It is a fairy sized version of Medli's dress.
Though it is a classified as a top option, it takes up both the top and bottom Fairy Clothing slots as it is a one piece outfit.
Origin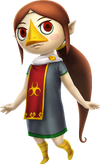 The Rito Dress is based on the dress worn by Medli in both The Wind Waker and Hyrule Warriors series.
See Also