Mothula (
A Link to the Past

) Talk

3

4,761pages on
this wiki
Mothula (ガモース, Gamōsu?, Gamoth) is the boss of Skull Woods, the third dungeon of the Dark World in The Legend of Zelda: A Link to the Past. As its name suggests, Mothula resembles an oversized moth.
Battle
Mothula's boss chamber consists of a moving floor surrounded by spikes. Once the boss battle begins, the floor starts shifting, and the spikes start sliding across the floor. Because of this, Link must not only worry about Mothula, but also avoiding the deadly spikes.
Mothula shoots lasers in groups of three and attempts to ram Link. While avoiding its attacks, Link can get close to the creature and use his sword to effectively take it down, though the Fire Rod, which is acquired within Skull Woods, is even more effective. Interestingly, Link can also use a captured bee on Mothula. This proves useful because Link is able to focus on dodging the sliding spikes while the bee attacks Mothula in his place.
Video
Palace of the Four Sword

In the Palace of the Four Sword, Link must face Mothula again. This time there are no spikes and the floor does not move. Instead, Mothula replicates itself. If Link attacks the fake Mothulas, they turn into bees and cause no damage to the real one.
Video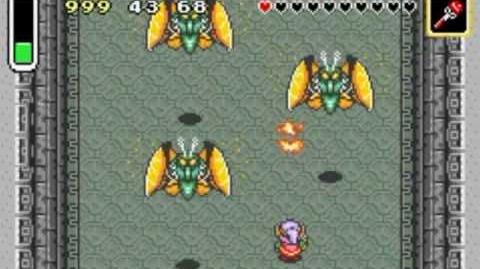 According to the manga, Mothula was once a very gorgeous woman who came to the Dark World to find fortune and was turned into this shape because of her greed.