Midna's Hair is Midna's Silver Material Drop in Hyrule Warriors & Hyrule Warriors Legends.
Origin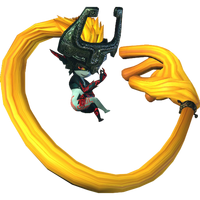 This Material is based on prehensile hand-like hair used by Midna in her cursed Imp form to grab and attack. In Twilight Princess, Midna can use it to pull Link into areas of Twilight and cast a magic field, that allows her to mark multiple enemies for Wolf Link to attack. In both her Imp and Twili forms, Midna wears a Cursed Shackle as a hair tie (which doubles as bracelet for her hair hand in her imp form). In Hyrule Warriors and Hyrule Warriors Legends, her Imp forms Shackle moveset depicts the Cursed Shackle and her other shackles (Twilight Shackle, Sol Shackle, and 8-Bit Red Ring) as weapons.
Ad blocker interference detected!
Wikia is a free-to-use site that makes money from advertising. We have a modified experience for viewers using ad blockers

Wikia is not accessible if you've made further modifications. Remove the custom ad blocker rule(s) and the page will load as expected.