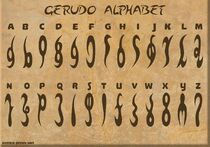 The Language of the Gerudo is a language in the The Legend of Zelda series. The Gerudo Language has its own typography, consisting of twenty-six letters, two numerals (1 and 5) and four forms of punctuation. It was confirmed in the Hyrule Historia and first appears in Ocarina of Time then in Twilight Princess, where it differs from that of the Hylian Language with more elongated characters. In Breath of the Wild, it is both written and spoken by the Gerudo.
Appearances
The Gerudo glyphs can be viewed at both the Gerudo's Training Ground and in its entirety on a stone tablet within the Spirit Temple. In the 3D remake of the game it can also be found up a stairway in Ganon's Castle.
Small pieces of writing can be read at the Arbiter's Grounds.
Gerudo language inscription can be read throughout the Gerudo province. In addition to the glyphs, it is also spoken by the Gerudo, although most of the time they speak to other races in the Hylian Language commonly used throughout Hyrule. During certain conversations in Breath of the Wild, Link may select Gerudo words as responses. Travelers in the Gerudo province attempt to use common phrases, often with mixed results.
Vocabulary
| Gerudo | English |
| --- | --- |
| "Sarqso" | "Thank You" |
| "Sav'otta" | "Good morning" |
| "Sav'aaq" | "Good day" |
| "Sav'orq" | "A farewell" |
| "Sav'orr" | "Good Night" |
| "Sav'saaba" | "Good Evening" |
| "Vasaaq" | "A greeting" |
| "Vaba" | "Grandmother" |
| "Vai" | "Woman" |
| "Voe" | "Man" |
| "Vure" | "Bird" |
| "Vehvi" | "Child" |
| "Sa'oten" | "Good heavens" |