Lanayru Desert
Talk

6
4,691pages on
this wiki
The Lanayru Desert, also known as Lanayru Mine, is a location from The Legend of Zelda: Skyward Sword. It is a region inhabited by the Ancient Robot race. Long ago, these creatures performed tasks in the Lanayru Desert, but have since fallen into decay. It is also the location of the Lanayru Mining Facility and the Temple of Time. In certain parts of the desert, Link must utilize Mine Carts, Clawshot targets, and Timeshift Stones to reach locations that otherwise cannot be accessed.
Story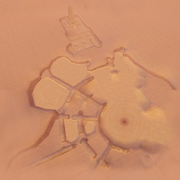 After having searched for Zelda in the Faron Woods and Eldin Volcano regions of The Surface, and having placed the Amber Tablet in the chamber Inside the Statue of the Goddess, Link arrives at the Lanayru Desert. While trying to reach the Lanayru Mining Facility, Link must activate three generators situated across the main desert area, in order to activate a larger Timeshift generator. The time-field then resurrects the door to the Facility: a large ziggurat-style pyramid which rises up from the large circular sinksand pit in the middle of the desert. The Lanayru Mining Facility leads to the Temple of Time, where a Gate of Time is located.
Theory
Given Lanayru Desert's environment and approximate position relative to the only volcano and forest shown in the game, it is possible that part of it later becomes Gerudo Valley from The Legend of Zelda: Ocarina of Time and/or Gerudo Desert from The Legend of Zelda: Twilight Princess.