Island Dress is a Fairy Clothing Top option from Hyrule Warriors Legends. There are two versions of the Island Dress: Island Dress (Blue) and Island Dress (White). Though they are classified as a top option it takes up both the top and bottom Fairy Clothing slots when worn. The blue version can be obtained on the main Adventure Map, while the white version can be obtained on the Great Sea map.
Gallery
Origins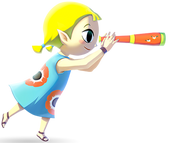 The Blue version is based on the blue dress with a flower pattern worn by Aryll.
See Also
Ad blocker interference detected!
Wikia is a free-to-use site that makes money from advertising. We have a modified experience for viewers using ad blockers

Wikia is not accessible if you've made further modifications. Remove the custom ad blocker rule(s) and the page will load as expected.