This article is about the race. For the language, see Hylian Language.
The Hylians, also known as the Hylia people (or simply the Hylia) are a recurring race in the Legend of Zelda series. Creatures that worship the goddess Hylia, from which their name derives, the Hylians are the original race of Hyrule. It is said that they were created by the Goddesses or Oocca race though it is more likely the Goddesses were involved as no Oocca appear in The Legend of Zelda: Skyward Sword and it may simply be a myth associated with the Oocca, presumably due to Hylians having lived in The Sky in the past.
Characteristics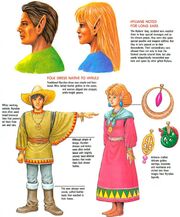 Physically, Hylians resemble the other races of humans, and the only difference appearance-wise between them is the Hylians' long, elf-like ears that supposedly enable them to hear special messages from the goddesses, though Gerudo and Sheikah also possess pointy ears.
Their heritage also gives them unique psychic and magical abilities. The Hylians have therefore given birth to many heroes through the ages, most notably the various incarnations of Link and Zelda. Like Gerudo and Humans, Hylians can utilize witchcraft and ride flying broomsticks as Irene and her grandmother are witches in The Legend of Zelda: A Link Between Worlds though unlike the Hyrulean Gerudo Koume and Kotake they are noble witches and Irene is also a sage as she is a descendant of the Seven Wise Men. Some Hylians like Link, Zelda, Sparrot, and Fanadi have prophetic abilities allowing them to see the future, have prophetic dreams, or sometimes even simply have a strong feeling something is about to occur. Some even use this ability to work as fortune tellers with the aid of crystal balls like Fanadi and Sparrot. For Link and Zelda, prophetic dreams usually occur when the forces of evil are growing in strength and the Great Deku Tree explained to the Hero of Time that this is normal for people with precognitive abilities presumably warning them of powerful evil threats and disasters, though some like Zelda may have dreams foretelling positive events like Zelda's dream of Young Link and Navi with the Kokiri Emerald which allowed Zelda to recognize them as allies when they infiltrated the castle garden in Ocarina of Time.
While most Hylians are depicted as good they are capable of being greedy, cowardly, or mean spirited though often these Hylians tend to be good people deep down and can sometimes rise above their negative traits as shown by Link's rival Groose in Skyward Sword. However these Hylians can be vulnerable to evil influence as shown by Ingo in Ocarina of Time who's resentment of the lazy Talon caused him to fall under Ganondorf's influence turning him into a cruel man until Link won Epona off him which apparently broke Ganondorf's hold on him to the point his resentment disappeared, though it should be noted that after reuniting with his daughter Talon changed and started putting more effort into running the ranch alongside Malon thus reducing the burden on Ingo who used to shoulder most of the workload due to Talon's laziness which in turn caused Ingo's resentment.
It seems that aside from their magical and psychic abilities, the Hylians also possess a degree of superhuman strength as Link in The Adventures of Link, Ocarina of Time, Twilight Princess, Skyward Sword, and Breath of the Wild have shown. This seems to however, be limited to physically fit Hylians who have matured to some degree. In The Legend of Zelda: Breath of the Wild, Zelda herself notes the adolescent Link possesses a high level of physical fitness which makes him an ideal candidate to test the effects of animals and plants that enhance physical abilities outside a controlled environment. This implies Princess herself apparently lacks his level of physical fitness due to her pampered lifestyle and Link's years of physical training since childhood, though she may have been trying to remain unbiased as a scholar and scientist as well as Link being more fit thus less susceptible to sickness or able to endure any potential side effects incurred during her impromptu field experiment. Additionally Link is well known in Breath of the Wild to have a large appetite and can eat a variety of foods. Link's various incarnations are implied to be born Hylian prodigies as they can quickly master skills, abilities, items, and are gifted fighters even as children as the young Hero of Time and Link in Breath of the Wild are noted to have been capable swordsmen as children with the Breath of the Wild incarnation being stated by two Champions capable of besting fully grown Hylian and Zora knights at just four years old. However this may be an innate aspect of Hylians destined to become the Chosen Hero. Demise noted upon his defeat in Skyward Sword that Link fought like no Demon or deity he had ever encountered before then indicating his fighting abilities were greater than any god or demon that existed during Demise's lifetime including Demise himself. Additionally in Breath of the Wild, Link's perception of time apparently slows down when performing certain actions such as after a Perfect Dodge, Perfect Guard, or drawing a bow in mid-air allowing him to react more quickly than others around him though when drawing a bow midair it only lasts as long as Link has stamina.
Hylians are average swimmers though sometimes individuals may require items or armor to aid them in swimming or diving. Hylians can drown if they run out of air though Zora Tunics, Zora Armor, and Air Potions can allow them to dive indefinitely or for longer periods. Certain items such as Water Dragon's Scale in Skyward Sword and the Zora Armor set in Breath of the Wild can allow Hylians to swim as well as a Zora, Parella, or Mermaids.
In the early part of Hyrule's history, Hylians were the dominant and most populous of the general humanoid races, as shown in The Legend of Zelda: Ocarina of Time. In the Adult timeline, the bloodline began to thin, and Hylians were replaced by humans as the most widespread humanoid species, becoming increasingly rarer by the time of The Legend of Zelda: The Wind Waker; however, the majority of the Great Sea's inhabitants are still of Hylian descent. In the Child Timeline and Fallen Hero Timeline, it seems that the Hylians and Humans are about the same amount.
In The Legend of Zelda: Breath of the Wild, Hylians are again one of the most populace races in Hyrule even after the fall of Hyrule as a kingdom during the Great Calamity and no humans appear despite the presence of Koroks and Rito. However Sheikah and Gerudo exist in greater numbers as well, while Rito and Zora coexist, and the human population may have perished either 10,000 years prior to Breath of the Wild, during the Great Calamity a century before the events of Breath of the Wild, or died out during the Age of Burning Fields in the century that Link slumbered in the Shrine of Resurrection.
Aging and Lifespan
"That said, this Hylian... I get the feeling I've seen him before... Perhaps a long time ago... Now I remember! This person is... No, but Hylians don't live for more than 100 years... I'd better ask, just to be sure..."
— Bazz upon encountering Link a century after the Great Calamity
It is shown that Hylians have an extended life-span, to the point of living for centuries, however this is contradicted in Breath of the Wild, as the Zora Bazz notes a Hylian's typical natural life span is generally no more than a century at maximum as he is unsure if Link was his childhood friend from a century prior given his physical age. Though the Link in Breath of the Wild is technically over a century old as his age was halted by the Slumber of Restoration until his injuries had been healed though left him in a slightly weakened amnesiac state as a side effect thus Link's survival is due him being in suspended animation for a century and not biological in nature. Rivan another one of Link's childhood friends among the Zora even notes Link had aged remarkably well for a Hylian unaware of his age being halted though other Zora do not comment on his age presumably due to his heroic status as Link was the wielder of the Master Sword a century ago. Rito Elder Kaneli also believes Link to be the Hylian Champion at first though after thinking about it concludes Link is a descendant of the Hylian Champion from a century ago based on Link's physical age making him too young to be the Hylian Champion unaware he was preserved by Sheikah technology. Link's being over a century old is even lampshaded for comical effect when he tries to convince a Gerudo that he is over a hundred thus more than old enough to drink, though she believes he is joking and is ironically viewed too young to drink though as he disguises as a Hylian girl to enter Gerudo Town presumably his androgynous appearance causing Gerudo to view "her" as being much younger than Link actually is as he is apparently in his late teens though it is unclear what the actual drinking age is for Hylians or Gerudo, thus Link may still be too biologically young to drink due to his age being halted.
Additionally Princess Zelda who is technically 117 years old as the Great Calamity began on the same day she turned seventeenth, also apparently had her aging halted when she sealed herself with Calamity Ganon in Hyrule Castle, though her sealing power is apparently divine in nature thus explaining why she is still biologically seventeen a century later, though her aging presumably resumes after Ganon is defeated and she is no longer sealed with him. However with the exception of Link and Zelda, most Hylians that lived during the Great Calamity and survived are not alive a century later indicating Bazz's statement is correct as Zora are a naturally long lived species due to aging at a different rate than Hylians, Gerudo, and even Sheikah. Sheikah are also depicted as capable of outliving most Hylians as Impa, Purah, and Robbie are elderly Sheikah over one hundred as Purah is at least 120 years old according to her diary, though her experimentation with a anti-aging Rune may have been a factor as she is older than her sister Impa yet is physically six years old during Breath of the Wild due to her age regressing too much. Thus Hylians are implied to have natural lifespans akin to real world humans, though as with real world humans presumably certain longed lived individuals may live beyond 100 years. Additionally magic, divine powers, or technology may allow Hylians to survive beyond their natural lifespan, or hinder the effects of aging allowing them to live longer. Hylians can pass away suddenly as Zelda's mother apparently died unexpectedly of natural causes when Zelda was six years old eleven years before the Great Calamity to the shock of Zelda's father and her mother's close friend Gerudo Chieftain Urbosa. Hylians, Gerudo, and Sheikah all apparently age at the same rate though Sheikah males can produce offspring even in old age as the elderly Robbie had a son with his younger wife Jerrin. However elderly Hylians, Sheikah, and Gerudo all suffer the negative effects of aging as most living creatures do.
Diet
Like Humans, Gerudo, and Sheikah, Hylians are primarily omnivorous. Their diet includes fresh water, hot spring water, animal meat, poultry, fish, crabs, snails, escargot, eggs, milk, butter, cheese, bread, fruit, herbs/flowers, vegetables, mushrooms, truffles, rice, and nuts. Rock Salt, Cane Sugar, Goron Spice, and Monster Extract are used by Hylians as spices. Hyrule Herbs and various flowers can been cooked to create food dishes or combined with specific ingredients to create elixirs. Apples, Carrots, and Pumpkins have a history of being grown by Hylians as food and milk has been a staple part of Hylian diet through various games. In The Minish Cap, Wheaton & Pita run a bakery where Link can purchase baked goods and Link can cook bread, cakes, and pies in Breath of the Wild. Hylians can also consume Poe spirits and certain types of Chu Jelly though consuming Poes can negatively effect their health and sometimees Chu Jelly must be brewed into potions or elixirs. Nasty Soup also effects Hylians in the same manner as consuming a Poe. Hylians can also can eat Eyeball Frogs, though Hot-Footed Frogs and Tireless Frogs must be brewed into Elixirs before consumption though humorously in Breath of the Wild Zelda attempts to get Link to eat a raw Hot-Footed Frog to test its speed-boosting effects failing to realize it must be cooked into a Hasty Elixir first due to her excitement over catching one. Link despite his large appetite is shown to be visibly disgusted with the prospect of tasting much less consuming it showing even his considerable appetite has its limits. Frogs, Insects, Lizards, Ancient Materials, and monster parts are all used as potion ingredients as cooking them alone or with incompatible materials usually results in unappetizing and barely edible failed food dishes such as Dubious Food and Rock-Hard Food which Link can consume in Breath of the Wild. Gemstones and Wood can be cooked into Rock-Hard Food, though Hylians must be careful when chewing to avoid breaking teeth. The same goes for frozen meat and seafood though these are generally more appetizing. Hylians can roast raw ingredients to boost their healing effects and Hard-Boiled Eggs can be cooked by dropping Bird Eggs into Hot Springs making it a popular dish among children. According to Daruk's Training Journal, Link managed to safely consume a Rock Roast that the Goron Daruk offered him to improve his palette as some Gorons fail to understand Hylian dietary needs differ from those of the rock eating Gorons. Daruk believed Link enjoyed it so much he was rendered speechless though it is implied Link did not enjoy it and only managed to consume it safely in the same manner as Rock-Hard Food. Additionally Daruk offers Zelda a Roast Roast though she declines with a grimace, though Daruk thought she had something foul on her mind and simply wasn't hungry. However some Gorons are better informed such as the owner of Protein Palace a barbecue joint for Hylian and Gerudo travelers in Goron City. Goron Spice is also popular among Hylians for making curry, sautéd herbs, sautéd mushrooms, and spiced meats. Other non-humanoid races seem better informed about Hylian diet as Koroks, Rito, and Zora are shown to have a better understanding though Koroks may know this due to their Kokiri ancestry and Rito are known to have an omnivorous diet, while Zora and Hylians both enjoy fish and seafood.
Hylians hunt wild animals (Boars, Deer, wild goats, wild cows called water buffalo, bears, foxes, wolves, and rhinoceros) and wild birds (Crows, Gulls, Pigeons, Heron, Hawks, and Ostrich) for their meat while catching fish, snails, and crabs to eat as seafood. Their omnivorous diet allows Hylians to endure various conditions and survive in the wilderness of Hyrule which played a vital role in Hylians surviving the Great Calamity as they can adapt to changing conditions yet still find enough food to survive should farms, crops, and towns be destroyed. Hylians also have a history of farming and agriculture as they raise Cuccos for their eggs, cows for their milk, and goats for milk, butter, and cheese. Hylian Rice is grown by Hylians in Hateno Village and used to make a variety of dishes. Hylians also forage for wild mushrooms and valuable truffles to sell to shops or eat. Cooking raw ingredients to create food dishes and elixirs is common among Hylians several of whom make a living as chefs. Aurie Taamu is implied to be a famous Hylian Chef who is rumored to have been at the center of a love triangle with the Gerudo Ashai and Isha that ended tragically leaving both women single, though Ashai uses his cookbooks for her nighttime cooking class and he is considered an amazing chef among her Gerudo students due his knowledge of the culinary arts though his race is never specified though he is strongly implied to be Hylian as Gerudo women are known to seek them out as mates and husbands. Others may work as butchers like Mezer and hunters like Quince providing meat to their fellow Hylians and other races. Link himself can also cook food in Breath of the Wild while the Hero of Twilight helps Yeto the Yeti make Yeto's Soup in Twilight Princess. Link's Grandma in The Wind Waker is known to make Elixir Soup and various types of soup appear throughout the series. Various incarnations of Link often acquire potions brewed by fellow Hylians while Link in Breath of the Wild can brew elixirs through cooking. Fairies produce dust that can be used as a spice in cooking or to create Fairy Tonic in Breath of the Wild and Great Fairy's Tears can also be consumed by Hylians in Twilight Princess. Fireproof Elixirs are essential to Hylians who wish to travel through hot volcanic areas and do not have access to the Goron-made "Flamebreaker" Armor set. Link can make Wheat Bread, cakes, crepes, candy, pies, tarts, pudding, curry, soups, stews, risotto, meunière, omelets, fried eggs, pilaf, rice balls, salted-grilled dishes, honey glazed dishes, and spiced dishes. Certain ingredients have beneficial effects that can enhance certain abilities when cooked or frozen, which Zelda in Breath of the Wild is noted to have a scholarly interest in studying these effect on Hylians in addition to her research of ancient Sheikah technology. Fruitcake is stated to be Princess Zelda's favorite in a Castle Library Book containing its recipe while a royal family recipe for Monster Cake can be found in another book. The Old Man has trouble remembering his recipe for Spicy Meat and Seafood Fry which Link can help him recreate while stranded on the Great Plateau. Various Hylians may request Link's aid in acquiring raw ingredients or cooked food dishes. Link finds several recipes in books or diaries written by Hylians such as Ivee's Diary and the Girl's Notebook. Some Hylians merchants may even suggest potential recipes for dishes and elixirs. Various establishments and even some homes feature recipe posters showing recipes for dishes and elixirs, though this practice is also popular among the Gerudo as well.
Consuming food, milk, Hot Spring Water, potions, Poes, Chu Jelly, or elixirs can restore Heart Containers, Magic Meter, or Stamina Gauge depending on their effects. Consuming Stamina Fruit can restore stamina in Skyward Sword.
Interspecies Relationships
It is implied by a Gossip Stone in Ocarina of Time and eventually confirmed in Breath of the Wild that Hylian males can reproduce with Gerudo females which is how Gerudo reproduce without Gerudo males which are extremely rare occurance. However any child born to a Gerudo mother will be a Gerudo and usually female save for the rare Gerudo male born to the tribe indicating Ganondorf's father was likely a Hylian as with most children born among the Gerudo save for periods a lone male appears. Due to their rarity is unclear if Gerudo males like Ganondorf could reproduce with Hylian females in the same manner and whether the resulting child would be Hylian or Gerudo as no cases have been shown or implied. It is also suggested by Paya that Sheikah can reproduce with Hylians as she notes her family has a strong Sheikah bloodline indicating the large Sheikah population in Breath of the Wild is the result of interbreeding with Hylians and why some Sheikah lack traditional Sheikah traits such as red eyes and white hair as even among Impa's family only Impa's sister Purah has red eyes despite their strong bloodline. Jerrin and her son Granté have greenish blonde hair which may be due to Hylian ancestry as blonde hair is not uncommon among Hylians. Additionally Hylians and Sheikah can be attracted to one another as Paya develops a crush on Link, Zelda's unnamed Sheikah court poet had a crush on the Princess, and the Hylian Bugut has a crush on Claree an though no intermarriage or actual romance between Sheikah and Hylians is shown unlike Gerudo and Hylians as the Hylian Hudson marries the Gerudo Rhondson during "From the Ground Up" and some Gerudo mention being married to Hylian men though due to Gerudo Town law husbands cannot stay with their wives and daughters in Gerudo Town and though unconfirmed it is implied Gerudo males would also be relegated to living outside Gerudo Town as all men are stated to be forbidden in Gerudo Town (though a Goron was let in it is implied he was mistaken for female due to his feminine sounding name). However may Gerudo merchants are married and return to Gerudo Town to make a living while bringing their daughters with them or leaving them with their grandmothers. Young Gerudo women often leave Gerudo Town to mingle with Hylian men and some like Rhondson live with their husbands after marriage. Amorous Hylian men tend to visit the desert in order to meet Gerudo women though most are ignorant of Gerudo Town law or unrealistically believe they will be allowed in. Some Hylian male merchants wish to discover the secret to entering Gerudo Town though few do. Men like Link and Vilia can disguise themselves as female by crossdressing in Gerudo women's clothing though must maintain the disguise or be thrown out at the point of a spear, though not everyone is fooled by such a disguise though Link manages to be lucky as none encountered in Gerudo Town expose his secret and even Gerudo Chieftain Riju bends the rules by permitting him to visit Gerudo Town after deducing his true gender out of respect for his comrade Lady Urbosa, provided he maintain his female disguise. Some Hylian men and women are even fooled by Link's female disguise, while Jules who sees through his disguise notes his ability to pass for female is so convincing she admits she is momentarily fooled whenever he approachs her in Gerudo Town.
Additionally romance and even potential engagement between Hylians and Zora is implied by Princess Ruto's seven year engagement to the Hero of Time before she ended it after becoming Sage of Water in Ocarina of Time. Additionally in Breath of the Wild, Princess Mipha also fell in love with Link whom she had known since he was four years old and even planned to marry as she created Zora Armor for Link in accordance with Zora Royal tradition of Princesses crafting armor for their future husbands. Non-Royal Zora Kodah also had a crush on Link and competed with Mipha for Link's affection though eventually married a Zora named Kayden, though her daughter Finley ends up sending love letters downriver to a Hylian named Sasan though she is unaware he is Hylian until Link discovers it for her. Mipha also mentions a Zora princess who fell in love with a Hylian swordsman and even prays to her spirit for courage to admit her feelings. This princess however is implied to be Ruto and the swordsman being the Hero of Time. As Mipha, had a younger brother she could potential abdicate if her marriage to Link prevented her from taking the throne, though as Zora have longer lifespans, Mipha and Ruto could have potentially remarried to a Zora male once their Hylian husbands passed away and potentially produced heirs later in life. It is unclear if Zora and Hylians can reproduce given their biological differences, though magic or the ability to transform into Zora like the Hero of Time's Zora Link form could be used to work around it should Zora and Hylians be incapable of reproducing naturally. However no male Zora have shown attraction towards Hylian females and no female Hylians have been shown to be attracted to male Zora, with Hylian journalist Traysi even disliking Prince Sidon's personality and doubting he was actually a prince, despite believing in various rumors with little supporting physical evidence.
Though humans are shown to find Hylians attractive and even suggestions of potential romance between the Hero of Twilight and Ilia, there is no evidence of marriage or interbreeding among Hylians and Humans though its possible Ashei's Father could have been Hylian as he was a Knight of Hyrule or humans are genetically descended from Hylians or evolved from them possibility as a result of centuries of interbreeding with Gerudo and/or Sheikah or via genetic mutation. It is implied Hylians, Sheikah, Gerudo, and Humans are all closely related due to their humanoid appearance and Hylians are sometimes referred to as humans such as in Skyward Sword. It is also possible that in addition to Hylians, humans can reproduce with Gerudo and Sheikah which may explain their absence in Breath of the Wild as pure humans may have gone extinct due to interbreeding with other humanoid races such as Hylians, Gerudo, and Sheikah though genetically they live on through their Hylian, Gerudo, or Sheikah descendants though they all have pointy ears characteristic of those races indicating round ears may be genetic trait exclusive to pure humans though they may also be influenced by Gerudo and Sheikah interbreeding with Hylians.
Hylians can become Ghosts after death, transform into spirits if exposed to Twilight, or if their spirit is somehow separated from their living body. It is implied Zelda is capable of transforming into the Sheikah Sheik though it may be a magical disguise as Sheikah members of the evil Yiga Clan can disguise themselves as Hylians in a ninja-like fashion which may be related to Zelda's Sheikah alter-ego as she is implied to have been trained by Impa in the Sheikah's esoteric arts in Ocarina of Time to better hide from Ganondorf. Link can transform into a variety of forms through magic, certain masks, or exposure to certain types of magic or realms like the Dark World or Twilight Realm. It is also implied some Hylians are able to reincarnate after death and gods can reincarnate into mortal Hylians as shown by Hylia's reincarnation the Spirit Maiden from Skyward Sword. Additionally Hylians may transform into monsters as it is suggested in Ocarina of Time that Hylians that become lost in the Lost Woods eventually turn into Stalfos if adults or Skull Kids if children though the Hero of Time never suffers this fate save for becoming the Stalfos-like ghost known as the Hero's Shade after his death in the Child Timeline instead of retaining his Hylian appearance as a Ghost upon death like King Rhoam, King Gustaf, and Dampé though his Hero's Shade form may have been due to his desire to pass on his skills to his descendant.
Bloodline of the Goddess
Additionally it is strongly implied in Breath of the Wild that the Royal Family of Hyrule is descended from divinity through Hylia as the Princesses of Hyrule are stated by Impa to possess the bloodline of the Goddess and at least two incarnations of Zelda in-game are referred to as the "Goddess-Blood Princess", the Princess from 10,000 years prior and the current incarnation of Zelda. Additionally the Royal Family of Hyrule apparently rules over Hyrule by divine right due to its divine lineage or at least a belief in said lineage. However given Hylia reincarnated into a Hylian girl named Zelda, it is suggested that the Hylian Royal Family are descended from the Spirit Maiden Zelda from Skyward Sword who apparently regained her divinity as Hylia after her mortal life as a Hylian ended as a incarnation of the Goddess Hylia appears in Breath of the Wild and the Princesses of Hyrule traditionally pray to her to awaken their divine sealing powers. Link prays and makes offerings to Hylia as well while most races worship her though worship of Hylia has fallen among the Gerudo in the century following the Great Calamity. It is suggested this is why the Sheikah traditionally serve the Royal Family due to their relation to Hylia. It is unclear if Kings or Princes inherit any divine powers as only Princess and Queens of royal blood are implied to awaken the sealing power which Zelda notes her mother told her she inherited her latent powers from her grandmother who possessed the same ability to hear spirits that Zelda gains upon awakening her powers indicating her father was of royal blood and the child of a previous incarnation of Zelda as family tradition requires all royal female offspring to be named Zelda as Rhoam Bosphoramus Hyrule named his daughter in accordance with family tradition.
Hylian Knights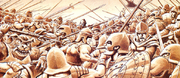 The Knights of Hyrule can apparently be traced back to the academy of knights in Skyloft. The Knights of Hyrule are an ancient order of knights responsible for protecting the Royal Family of Hyrule presumably alongside the Sheikah. During certain conflicts such as the Hyrulean Civil War, Imprisoning War, and Great Calamity most of them were killed with only a few survivors. They did however become prominent again in the Child Timeline and were active before the Great Calamity in the indeterminate timeline of Breath of the Wild. Apparently, only descendants of the Knights of Hyrule can wield the legendary Blade of Evil's Bane, the Master Sword though Breath of the Wild also implies the wielder is chosen by the sword's dormant spirit and Link must regain his strength to wield it despite having been chosen by the blade a century prior. However various incarnations of Zelda also are capable of holding or even wielding the blade (though are apparently incapable of wielding its true power as they never attempt to wield it against evil themselves). However the Spirit Maiden was a student at the knight academy in Skyloft and was likely descended from knights through her father who may have been a knight before becoming academy headmaster. As the Princessea of Hyrule may be the Spirit Maiden's descendants (and possibly the Hero of the Sky that forged the Goddess Sword into the Master Sword as he and the Spirit Maiden may have become a couple after Demise's death) presumably they can wield the sword due to their connection to the Knights of Skyloft and Hylia's mortal incarnation. The Princess Zelda in Breath of the Wild can even hear the voice of the sword's spirit upon awakening her sealing power and is responsible for placing the blade in the pedestal where Link finds it under the protection of the Great Deku Tree and Korok tribe whom Zelda entrusted with guarding the ancient blade until Link's return.
In Breath of the Wild, Traysi notes in a Rumor Mill article about the Master Sword, that according to rumor and legend the Master Sword can only be wielded by Hylians with a heroic bloodline and notes she'd be incapable of wielding it as their are no heroes in her family. The Hyrule Historia states the Hero of Twilight from Twilight Princess is a descendant of the Hero of Time who takes the form of a ghostly knight called the Hero's Shade after his death and even has his own wolf form.
Additionally it is noted by Zelda in Breath of the Wild that Link's father was a Royal Knight as Link followed in his footsteps as Link was ultimately appointed to Captain of Zelda's Royal Guard by her father after Link defeated a out of control Guardian during a test run at Hyrule Castle before the Great Calamity. It is suggested Link through his father may have come from a family of Hylian Knights and most of Link's acquittances from a century prior did not seemed surprised by Link being chosen by the Master Sword given his strength, talent, and family background. This further hints that each Link is related to one another, though some Link's may be reincarnations of previous ones as Impa mentions a knight with the spirit of a hero during her retelling of the battle between Calamity Ganon and the incarnations of Link and Zelda who defeated and sealed Ganon 10,000 years prior to Breath of the Wild. Alternatively certain incarnations of Link may be related by blood, shared destiny, and/or reincarnations of previous heroes.
Ashei's Father left the order due to infighting with his superiors though trained his daughter in fighting and military tactics, though it is unclear if he was Hylian or Human though his daughter is human so he may have been human as well. It is unclear if female Hylians or female Humans can become Knights of Hyrule like the Knights of Skyloft and Zora Knights which are knightly orders that allow females to join their ranks, as no female Knights of Hyrule have been shown though if permitted Ashei might have been knighted by Zelda due to her being the daughter of a former knight and in honor of her role in the Resistance that assisted the Hero of Twilight in Twilight Princess.
It is unclear if Hyrulean Soldiers can be knighted and inducted into the order, though it is implied they are subservient to the knights and Sheikah. Hyrulean Soldiers are implied to be a conscript army and security force that maintain law and order as well as defend both the general population and Royal Family, while knights are members of a sacred and noble order long associated with incarnations of the Hero, the Master Sword, and important groups such as Seven Wise Men and even the Royal Family of Hyrule itself. The Hyrulean soldiers usually appear as average soldiers and in some cases depicted as inferior to the knights who are apparently better trained, better equipped, and have knowledge of secret techniques such as the Spin Attack. However in Breath of the Wild the two fight alongside each other during the Great Calamity and later conflicts though they are eventually annihilated by Ganon's forces though show immense bravery against the corrupted Guardians and it should be noted even Royal Guard Captain and Hylian Champion Link almost perished from his injuries but was saved by ancient Sheikah medical technology. Additionally King Rhoam and the four pilots of the Divine Beasts also perished during the Great Calamity with Link and Zelda barely surviving to carry on the fight with their remaining allies though it took a century before Link was healed enough to challenge the Scourges of the Divine Beasts, Master Kohga, and Calamity Ganon. Long before the Great Calamity, the Royal Guard is implied to have taken over the traditional role of the Sheikah as royal bodyguards as the Sheikah fell out of favor among the Hyrulean people due to valid fears of Sheikah technology being misused resulting in some Sheikah to form the evil Yiga Clan who swore loyal to Ganon. However most Sheikah remained loyal and continued to serve in secret though due to the presence of Yiga Clan Sheikah, Sheikah apparently became unsuited to their traditional role as Sheikah may have been seen as no longer trustworthy or feared possible infiltration of the loyal Sheikah ranks by Yiga Clan Sheikah or the possibility of Sheikah turncoats, thus the Royal Guard may have been established to takeover for the Sheikah if it didn't already exist in some form as it is implied that precursors to the Royal Guard existed and guarded the throne room in Ocarina of Time and Twilight Princess.
In Breath of the Wild, Soldiers are issued armaments that are generally inferior to those wielded by Knights and members of the Royal Guard further implying the knights hold greater rank among the Hyrulean Army with Royal Guards being the elite among the Knights of Hyrule as they have access to "Royal" series weapons which are some of the finest armaments available to members of the Hylian army. However Hyrulean Soldier armor set is an exception as it can be upgraded by Great Fairies making it some of the best conventional armor available though it is implied Hylian Knights may also wear the same armor as there is no Knight series armor set in Breath of the Wild beyond the dress uniform of the Royal Guard which is apparently more ceremonial as it has low defense and cannot be upgraded, though it does grant a set bonus that reduces the amount of Charged Attack stamina used. However Hylian knights have access to Knight's Bridle and Knight's Saddle which acts as battle gear for knights' horses to wear providing protection in horseback combat. Additionally exceptional swordsman and archers among the knights may be awarded Royal Broadswords and Royal Bows as well as potential promotions to the Royal Guard should they accomplish great feats, acts of bravery, or show quick thinking or ingenuity during a crisis or conflict. Knights generally wield double-egded swords to the point 10,000 years ago Sheikah developed the Edge of Duality a double-egded Sheikah greatsword for Hylian knights unaccustomed to the single-egded Eightfold Blade and Eightfold Longblade traditional wielded by the Sheikah. Knights tend to wield various armaments such as Broadswords, Shields, Claymores, Halberds, Spears, and Bows. The mighty Hylian Shield has a history with the order though in Breath of the Wild it is typically awarded to royal knights who pass the test of the royal guard as they are relics passed down within the Royal Family associated with a legendary hero from the past. However the Royal Shield and Knight's Shield take the Hylian Shield's place as the order's more commonly used or issued shields, as while the Royal Guard's Shield possesses great defense its durability is poor thus was never issued outside Hyrule Castle. With the exception of the rare Hylian Shields, Royal Shields are among the finest shields the order had access to and are valued by Hylian shield surfers as among the best shields for shield surfering though most Hylians value them for their ornamention and historic value as relics of Hyrule before the Great Calamity. The Akkala Citadel had conventional cannon-based artillery batteries which were used by soldiers and knights to combat corrupted Guardians in a heroic but doomed last stand, though their heroism was remembered by the Hylian people a century after the Great Calamity and the Royal Guard Captain Link survived to return and defeat Calamity Ganon to restore peace and aid Princess Zelda in rebuilding the Hylian monarchy and army. Additionally before the Great Calamity, the Sheikah attempted to develop stronger conventional weapons with Sheikah technology for the Royal Guard to combat Ganon, but despite their power the Royal Guard series proved impractical as battle implements due to low durability and Robbie was unable to develop more high-tech ancient weaponry before the Great Calamity as he was more focused on Guardian research and was a failure the Sheikah researcher deeply regretted following the Calamity and resolved to make up for it by creating Ancient Soldier Gear as anti-calamity armaments for Link which are extremely effective against Guardians and could have potentially turned the tide in the Hyrulean army's favor had they existed during the Great Calamity. Though they no longer existed as an organisation, Royal Knights were romanticized by Hylians in the century following the Great Calamity with Traysi noting in a Super Rumor Mill article that she wished the Hylian monarchy was restored so her dream of a Royal Knight sweeping her off her feet would come true.
Terminan Hylians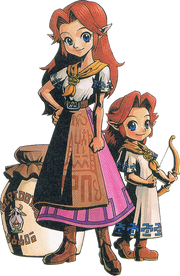 Hylians in Majora's Mask are often called "Terminans" by fans; however, this is technically incorrect. "Terminan" could apply to anyone from Termina, including other races such as Gorons, Zoras, Deku Scrubs, etc. So-called "Terminans" seem different from the Hylians in Ocarina of Time, such as being more technologically-advanced, but this by no means implies a different race. The Hylians in Termina do not refer to themselves as Hylians or Terminans, but as humans though their Hyrulean counterparts have also been known to be called humans at times. Since Termina is an alternate world to Hyrule, and the goddess Hylia is only known to appear in Hyrule, its inhabitants may have never known the term Hylian. It is interesting to note that none of the Terminan Hylians seem to use magic, implying they either have no need to or just incapable of doing so. Of course it is possible that they can use magic, but do not rely on it as much due to their technology. It is implied that Terminan Hylians worship the Four Giants and possibly the Goddess of Time though they are apparently not as religious as their Hyrulean counterparts as they lack temples, shrines, and other places of worship. The Carnival of Time is a popular festival held in Clock Town which is important in Terminan Hylian culture and Clock Town economy as it brings visitors from all over Termina. Masks play an important role in Terminan Hylian culture as well some even designed to provide useful powers or functions such as the Postman's Hat, Blast Mask, and All-Night Mask. The Moon's and Sun's Masks are created by couples about to be wed and later combined to create the Couple's Mask which holds a special significance among Terminan Hylians as upon seeing one Mayor Dotour puts an end to Captain Viscen and Mutoh's futile argument during a meeting over the Moon and impending Destruction of Termina as it reminds Dotour what is truly important and that the decision of whether to stay or flee Clock Town should be left up to the people to decide for themselves. Ultimately Dotour makes the right decision as an evacuation would be unnecessary as all of Termina is in danger and a mandatory evacuation could lead to unnecessary panic and social disorder as well as create conflict with those determined to stay. Additionally the Hero of Time, Tatl, and Four Giants manage to stop the Moon and freed Skull Kid of Majora's influence and destroying the evil spirit of Majora's Mask allowing the people of Clock Town and Termina to enjoy the carnival as originally planned.
Unlike their Hyrulean counterparts, Terminan Hylians do not have a royal family or monarchy and instead Clock Town is governed by a mayor. They also have a postal system overseen by the mayor's wife. Many Hylian children in Clock Town join the Bombers Secret Society of Justice which is a gang of children who aid people with their problems. Clock Town is defended by Clock Soldiers the Terminan counterpart of Hyrulean Soldiers. Clock Town is open to other races including the Deku, Goron, and Zora though no Gerudo are ever seen visiting town though Gerudo Pirates may risk arrest. Skull Kid also is known to visit Clock Town though his pranks and actions under Majora's influence caused him to be seen as a troublemaker and caused the Bombers Secret Society of Justice to only allow Hylian children to join them after Skull Kid caused trouble at the Astral Observatory when they briefly recruited him preventing Deku Link from becoming a full member though they did teach him their secret code. Some Terminan Hylians engage in illegal activity such as Sakon and the Man from the Curiosity Shop runs the Curiosity Shop which acts as a black market for selling stolen goods as Takkuri and Sakon both sell stolen goods to the shop which are then sold by the owner though it also functions as a legal pawn shop and the mayor's son Kafei is aware of the illegal activity though allows it to continue as the owner is a childhood friend who helps Kafei when he is turned into a child showing that while he engages in criminal activity, he is not as bad as a lowly mugger like Sakon. Additionally the Gorman Brothers engage in sabotaging their competitors at Romani Ranch, though they do have a soft spot for their circus leader brother Gorman who leads the Gorman Troupe showing they care for their family and it is implied they offer shelter to the Gorman Troupe and others on the Final Day.
Lorulean Hylians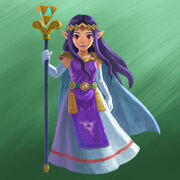 The parallel world of Lorule from The Legend of Zelda: A Link Between Worlds is also inhabited by Hylians or their Lorulean equivalent. Like the Hylians of Hyrule and Termina, they have pointy ears as well as psychic and magical abilities, though their eye and hair colors are darker than their Hyrulean counterparts such as the case of Lorule's Princess Hilda who has dark purple hair and red eyes which differs from Princess Zelda's blonde hair and blue eyes. Ravio is also shown to have dark purple hair as well, though he has brownish-yellow eyes. Princess Hilda and Ravio are notable examples of this type of Hylian as they are the counterparts of Princess Zelda and Link. In some cases, the differences between counterparts are more striking; such as certain counterparts being opposite genders, an example being Hyrule's Shady Guy and Lorule's Thief Girl. Due to differences in history between Hyrule & Lorule, some Hylians lack a Lorulean counterpart such as Gulley, as the Lorulean Blacksmith and his wife have no children. In fact, none of the Seven Sages seem to have a Lorulean counterpart.
The Lolians also are shown to be darker (though not outright evil) or possess a personality that is the opposite than their Hylian counterpart. For example, Ravio is a coward which is the opposite of Link who is courageous, while Princess Hilda demonstrates a willingness to do whatever is necessary to restore her kingdom, to the point of plotting with Yuga to steal Hyrule's Triforce and manipulating Link in order to obtain his Triforce of Courage, while failing to realize Yuga desired the Triforce for himself and had no desire to save Lorule, showing she lacks wisdom. Along with Hilda's actions, the Lorulean Royal Family of the past is shown to be willing to take extreme measures to protect and/or preserve their kingdom, such as destroying their Triforce to end the civil wars it caused, only to bring chaos and ruin to Lorule due to its destruction. Ironically, Hilda's desire to steal Hyrule's Triforce is the reason her predecessors choose to destroy their Triforce. This shows that Lolians (specifically members of the Royal Family) can be rash in times of strife or conflict, causing them to overlook less extreme alternatives or failing to see their good intentions can lead to negative results. However it is unknown whether some of these negative traits are a part of their nature or a result of the destruction of their world's Triforce, which had caused them to lose all hope. However as shown by Ravio, it is possible for Lolians to be noble and even rise above their negative traits, as while Ravio originally unable to confront Hilda over her plans to steal Hyrule's Triforce, he chose to go to Hyrule in disguise and assisted his counterpart by providing him with items and Ravio's Bracelet which protected Link from Yuga's magic. Though his interactions with Link, Ravio comes to have a better understanding of himself and even gains enough courage to confront Hilda and ultimately convinces her to see the error of her ways. He is also shown to possess great wisdom as he manages to see through Yuga and understood the noble reasons the Royal Family of Lorule chose to destroy the Lorule Triforce in the first place and even saw the irony of Hilda's desire to steal Hyrule's Triforce.
It is also shown that some Lolians possess abilities or traits greater than their Hylian counterparts, as the Blacksmith of Lorule is able to re-forge the Master Sword Lv2 into the Master Sword Lv3, something that the Blacksmith of Hyrule admits is beyond his capabilities. Also after the Master Sword Lv3 is forged, the Lolian Blacksmith's Wife apologizes to Link for her earlier crabby behavior after being reminded of why she married him, stating that Link had helped remind her of the good in people, indicating that the Lolians may have once been more positive.