Zeldapedia YouTube Page
4,761pages on
this wiki
Forum page
Archive of past discussion and completed games
Project Status
The Legend of Zelda
Zelda II: The Adventure of Link
A Link to the Past
Link's Awakening
Ocarina of Time
Majora's Mask (In Birdman's queue)
Oracle of Seasons/Ages (In Progress)
Four Swords (In Progress)
The Wind Waker
Four Swords Adventures
The Minish Cap
Twilight Princess
Phantom Hourglass
Spirit Tracks
Skyward Sword
Non-Canon
Last updated on 7/11/2013 --Birdman5589 (talk) 03:34, July 12, 2013 (UTC)
Discussion
Page Management
The Youtube page is currently managed by Birdman5589.
Four Swords
UPDATE: After many hours of trying to get this to work over the internet, we had determined it to be inplassible. However, it will work on a local network. If anybody has 3 friends that would be willing to set up a LAN and get videos for this let me know as I can help you with the details for setting up the game for LAN play. --Birdman5589 (talk) 00:24, August 16, 2010 (UTC)
New solution: I am in progress of getting it so I can record directly from my DSi. This would allow me to get videos from the "Anniversary Edition" of the game doing single player. Below is an image of the quality of the video feed on my computer.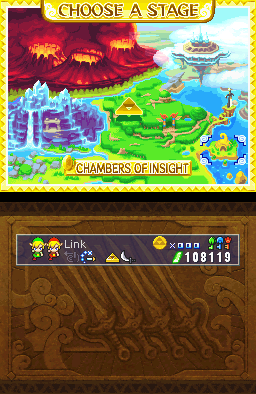 Ignore the bottom screen because I screwed it up bad somehow but it shouldn't be needed for these recordings. My consern with the quality on the top screen is that it is a little bit grainy. Is it that bad or am I just getting overly picky? EDIT: I did some re-soldering and now it appears the everything looks to be the same quality as the actual screens. When I do the recordings I'm planning on just doing the top screen. I would like some feedback on this. Thanks. --Birdman5589 (talk) 02:24, August 19, 2012 (UTC)
Since I have the bottom screen working now, I can record both screens. I however won't do what I did for PH and ST with the screens inside the image of a DSi. It just ends up being a pain and I no longer have the template project file I used on them. --Birdman5589 (talk) 03:06, August 19, 2012 (UTC)

Having it inside a DS wouldn't be as fitting anyway since it wasn't originally a DS game. The pictures do look good but to really get an idea we'd probably need some video footage. How are you doing this anyway? I'd be interested in having that kind of software myself provided it's not too costly. And do you know anyone else with the anniversary edition? Just to give it a more original feel if it looks like the other Link's are acting on their own even if it just records the screen of one. Oni Dark Link 11:42, August 19, 2012 (UTC)

I'll just tell you that this "little" project is quite costly. As for getting a video example, I currently have an old version of the capture software and they should be e-mailing me the new version shortly. Once I get recordings working, I'll post an example video. --Birdman5589 (talk) 12:56, August 19, 2012 (UTC)
So I haven't had any luck getting the videos to record with the software I had. So I'm tried the free version of FRAPS to get some test videos. If this is considered to be a high enough recording quality, I'll buy the full version of FRAPS to record these videos. Please provide your input from the sample video below. VIDEO REMOVED --Birdman5589 (talk) 21:35, September 9, 2012 (UTC)
Here is a test video with only the top screen to compare the two recording options. VIDEO REMOVED --Birdman5589 (talk) 21:58, September 9, 2012 (UTC)
I'd probably say the top screen only version since (I assume) even though we're using the anniversary edition we want it to look as close as possible to the original as we can. I also assume on the full version of FRAPS the website logo would be removed from the recordings. Oni Dark Link 09:04, September 10, 2012 (UTC)

I'm going to be in Austria this week so I'm not going to start recording yet. However, if I don't receive any more feedback by next week I'll begin recording these videos by assuming everybody else thinks using only the top screen is the best option. --Birdman5589 (talk)
Orcales Question
To whoever is working on the orcale games, I noticed that you made a "the true enemy appears" cutscene for orcale of ages. After you do ganon, I think you should make videos for the seasons version of the linked game "the true enemy appears"(the equivelent of that cutscene in seasons, upload the ganon battle at the end of both games, and upload the true end of both games (the linked ending of both games.) I don't know if these cutscenes are the same thing in both games or what because iv'e never played the orcales, but it's just a thought.--Hylianhero777 (talk) 22:43, November 28, 2010 (UTC)
McGillivray227 is working on the Oracle games and is planning on doing what you suggested. However it will take time as he will have to play through both of the games again. --Birdman5589 (talk) 22:47, November 28, 2010 (UTC)
Oh alright.--Hylianhero777 (talk) 23:22, November 28, 2010 (UTC)
I know of at least one difference in the cutscenes, they spell Onox's name wrong in Ages. Oni Dark Link 11:33, November 29, 2010 (UTC)
Majora's Mask
Majora's Mask is currently in Birdman5589's queue of games to record.
I recently got a capture card and have Majora's Mask on Virtual Console. If you're still a long way off getting round to recording this game I could do it so long as my recording specs meet the requirements. Oni Dark Link 16:23, July 25, 2013 (UTC)

That would be great if you wanted to. I guess one question I should ask is the Virtual Console version the NTSC or PAL version of the game? Since we use the NTSC versions for standardization, we should probably use the NTSC version for the videos as well (even if there is very little dialog differences). --Birdman5589 (talk) 22:14, July 25, 2013 (UTC)
Sorry but I spoke too soon. Trying it out has shown that while my dazzle can record Wii games very well it fails completely at recording Virtual Console games. Someone has suggested I try it on a better TV which I might be able to do and failing that I've heard of people who had trouble with recording the Wii VC but not Wii U VC (but I don't have a Wii U yet). Sorry to get your hopes up like that, I might be able to do it but right now it seems like I can't. Oni Dark Link 22:49, July 25, 2013 (UTC)
Widescreen Videos
In doing the Gamecube Zelda games, I'm using the Gamecube's component output since all the Zelda games are 480p capable. This however leads to the recording to be in widescreen even though the games only support a 4x3 aspect ratio even when in progressive scan mode. Using the default settings for embedding a Youtube video resulted in extra black bars on the top and bottom of the video. To get around the extra bars when embedding a widescreen video from Youtube, an extra bit of text needs to be added to size the embedded window correctly. Instead of <youtube>(video ID)</youtube> it needs to be <youtube height="305">(video ID)</youtube>. The height of 305 is the cutoff point for the extra black bars for the maximum/default width. This results in the displayed video being the same size but looking cleaner in the player. I am do this section as a reference for others so they know the reasoning behind the extra bit of text and for future reference. --Birdman5589 (talk) 06:12, December 4, 2010 (UTC)
Note: height="305" is used with 720x480 videos where height="264" must be used on true 16x9 videos. --Birdman5589 (talk) 18:47, May 1, 2011 (UTC)
Non-Canon
Non-canon games are currently planned to be completed with not specific time table.
Comments / "Likes"
If it's not a huge bother, would it be possible to disable both of these, as well as any other way with which people can add their unneeded and unnecessary opinion or questions (I thought we'd settled this already)? My biggest concern in this matter are things such as this. I really don't want ZP to be endorsing copyright infringement in this way, considering the vast gray area this subject is. I don't think we want to turn the channel into an unchecked Zelda Answers offshoot. --AuronKaizer! 14:43, May 29, 2012 (UTC)
When the this was initially being discussed I did by default have comments disabled. However, as a community we decided to enable them unless the system started being abused. I think we can say at this point that it would pry be better to disable them. I want a set decision on if we are also going to disable the "Likes" before I do this. Since I have to go and change the settings on each video it will take a while but it can be done. If I am going to have to go change these settings on every video already, is there anything else that should be changed. At way I can save myself the time and headache of going though every video again later. --Birdman5589 (talk) 22:59, May 29, 2012 (UTC)
I don't see it as that big a problem. We can just ignore such comments which would be no infringement of any copyright laws.
Oni
Dark
Link
23:01, May 29, 2012 (UTC)