Fire Rod
Talk

6
4,752pages on
this wiki
"You found the Fire Rod! This rod commands the red fire! But watch your Magic Meter!"
— In-game description
The Fire Rod is a recurring item found in the Legend of Zelda series. This rod shoots a blast of fire whenever Link waves it, allowing him to ignite objects and enemies, as well as lighting torches. It is similar to the Lantern in function, but it has longer range.
Appearances

The Fire Rod is found in Skull Woods, where it is needed to enter the second part of the dungeon. It is helpful, though not essential, in defeating Mothula and Kholdstare. It is later needed to defeat Trinexx, the boss of Turtle Rock. It requires Magic Power to use. The Fire Rod can defeat most enemies in one hit, setting them on fire as it does so.

Fire Rods can be found on Item Podiums. It shoots a fireball when the A button is pressed, or a continuous stream of fire when the A button is held, during which Link can continue to move while facing the same direction. If Link meets a Great Fairy, she will upgrade his Fire Rod to Level 2, allowing Link to place a yellow block on the ground when he swings the rod. If Link swings the Fire Rod again, the block will explode, sending out fireballs in the four cardinal directions. Additionally, the Level 2 Fire Rod can be used to create moving platforms in certain areas. The effect of the Level 2 Fire Rod is similar to that of the Cane of Somaria.
"You got the Fire Rod! This mystical rod shoots forth mighty flames."
— In-game description
Although it does not appear in-game, the Fire Rod shows up in the text of the game several times. It is seen with a price tag of 350 Rupees, and also has a game script of Link obtaining it. In the final version of the game, the Ice Wizzrobe Figurine mentions the Fire Rod, suggesting it was an item that was removed from the game late in development, possibly obtained instead of or as an upgrade to the Flame Lantern, which is found in the Temple of Droplets.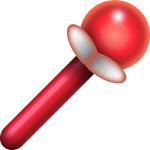 The Fire Rod appears as an item in the game. It can be bought or rented at Ravio's Shop. If Link brings ten Lost Maiamais to Mother Maiamai, she can upgrade the Fire Rod into the Nice Fire Rod.
See also