Farore's Wind
Talk

0
4,803pages on
this wiki
"You got Farore's Wind! This is warp magic you can use with (C). Warp when you are in danger! You will teleport to the Warp Point. When you first use the magic, you will create a Warp Point. When you use the magic again, you can either dispel the Warp Point you created last time or warp to that point."
— In-game description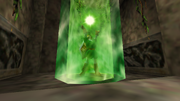 Farore's Wind is a spell from The Legend of Zelda: Ocarina of Time. Although not necessary for the completion of the game, Farore's Wind is a valuable addition to Link's arsenal of magic. With Farore's Wind, Link can create a warp point in his current dungeon room. When used again Link can either dispel the Warp Point or use it to travel instantly to the entrance of the room in which he created the point. Also, if a Warp Point is placed in any dungeon, Link can warp to it from any other dungeon. The Great Fairy of Magic in Zora's Fountain gives Link this magic spell after he bombs the rock outside of her cavern.
Farore's Wind is named after Farore, the Goddess of Courage.
Non-canonical appearances
In Super Smash Bros. Melee and Super Smash Bros. Brawl, Farore's Wind is the name of one of the spells used by Princess Zelda; it provides her with an extra jump. The player can control where she reappears to an extent by tilting the control stick.
See also