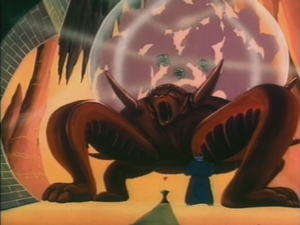 The Evil Jar is a gigantic, magical jar employed by Ganon in the Legend of Zelda animated series. This magical jar houses all of the monsters under Ganon's command, and magically retrieves them, and hence saves their lives, whenever they are about to be killed. Whenever Link fires at an enemy in the series, it is "zapped" back into the Jar. Even Ganon himself can be zapped into the jar.
List of residents:
Ad blocker interference detected!
Wikia is a free-to-use site that makes money from advertising. We have a modified experience for viewers using ad blockers

Wikia is not accessible if you've made further modifications. Remove the custom ad blocker rule(s) and the page will load as expected.