Bombers' Notebook
Talk

0
4,692pages on
this wiki
"You got the Bombers' Notebook! It allows you to keep track of people's schedules."
— In-game description
The Bombers' Notebook is a quest item from The Legend of Zelda: Majora's Mask. It is given to Link upon his admission into the Bombers Secret Society of Justice.
When the book is initially acquired, its contents will be empty save for the first slot, which details the newly obtained information about the Bombers. The book has room to list twenty of the people across Termina whom Link can help. The entry for each person will be added when Link meets them. This entry lists the times during which the person can be interacted with for the entire three day cycle. Once Link has accomplished a task, a "Happy Sticker" is placed next to the entry. Though the assisted person will forget what happened after restarting a three-day cycle, and the side-quest will reset, the entries and Happy Stickers will remain in the notebook.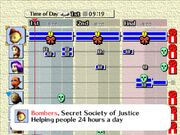 Because Link is transformed into a Deku Scrub in the beginning of the game by the Skull Kid, the Bombers will only give Link the code to their hideout after he bests them in Hide-and-Seek, but not a notebook. Their reasoning for this rule is that they had a skirmish with a non-human member (implied to be the Skull Kid) causing trouble and mischief in their society, so only humans are allowed to join the society. When Link has regained his human form, he can earn the notebook by replaying the Bombers' game of Hide-and-Seek, or by going to the Bombers' Hideout and telling the previously learned code to the Bombers guard wearing an orange bandana in East Clock Town. When Link enters and exits the hideout, Jim, the leader of the Bombers, will be so impressed by him knowing the secret code without playing the game that he'll give Link the notebook.
Contents
The following are all the people in the notebook: