Astral Observatory
Talk

0
4,761pages on
this wiki
"Well, yours is a face I'm not used to seeing... I am Shikashi, professor of astronomy! I have been enamored with the moon since I was a child. Now, I spend my days gazing at it from here."
— Shikashi
The Astral Observatory is a location from The Legend of Zelda: Majora's Mask. This small observatory is located just outside of Clock Town. To get to the Astral Observatory the first time, Link must use the underground tunnels used by the Bombers Secret Society of Justice, which can only be accessed after completing their hide-and-seek mini-game and obtaining the secret code. The path to the observatory is filled with dark, watery passages and there are two Skulltulas along the passages. It is necessary to go here at the beginning of the game in order to use the telescope to see where Skull Kid is hiding, and to get a Moon's Tear. Alternatively, once Link has access to Termina Field, he can use a Deku Flower near the observatory as Deku Link to reach a door that leads inside the building.
The Astral Observatory is divided into three sections: upper level, lower level, and the yard. The lower level is connected to the Bombers' Hideout. Inside is a caged Cucco , the Stylin' Scarecrow, some boxes and jars, a clock, and some other curiosities. A rainbow-colored staircase leads to the upper level where Shikashi is found. The floor has cubes in the design, and the walls allude to the outer space. There is a sofa and a large telescope in the upper level, as well as a Moon's Tear for exhibition.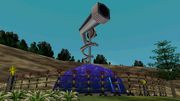 The upper section is connected to the yard, which leads to Termina Field. The field, however, is inaccessible due to a high fence. This enclosed yard is where Link can find a fallen Moon's Tear. There is also a Gossip Stone that gives information about priority mail and the Postman and a soft spot of soil where Link can plant a Magic Bean, which helps Link get out of the yard. From outside Link can look at the Astral Observatory's design, which includes a blue sky with a constellation.