Ancient Cistern
Talk

10
4,629pages on
this wiki
The Ancient Cistern (古の大石窟, Inishie no Daisekkutsu?, Ancient Stone Cavern) is the fourth dungeon of The Legend of Zelda: Skyward Sword, and serves as the "water-themed" dungeon for the title. It is in this dungeon that Link faces Koloktos and obtains the Whip. It also houses Farore's Flame. It is designed to greatly resemble a Buddhist temple, sharing similar designs and motifs (the main statue resembling a Buddharūpa, as well as the lotus flowers scattered throughout). The rather elegant upper floor of the dungeon is contrasted by the lower floor, a dark and ghastly place filled with Cursed Bokoblins. Purified water is released into the upper area of the facility, while the filtered impurities are processed in the lower area.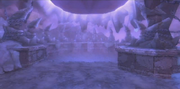 The Ancient Cistern is split into two sections. The elegant upper level is filled with pure water and ornate statues. The lower level, by contrast, is dark and deathly, containing contaminated water that jinxes and damages Link if he touches it. After descending to the bottom floor, Link must escape by climbing a long thread which hangs down from the floor above. Cursed Bokoblins will also climb the thread, in an attempt to drag Link back down. At the center of the Ancient Cistern's main chamber is a Great Statue, which Link must move up and down to access different parts of the dungeon. After Link receives the Blessed Idol in the lower floor of the dungeon, the statue will descend on Link, and a group of Cursed Bokoblins will arise around him. If Link fails to escape the crushing statue, an instant Game Over will occur.
The main item of the dungeon is the Whip, which Link receives once he defeats the Stalmaster. After Link obtains the Whip, many of the puzzles and enemies found in the dungeon require its use.
Mini-boss
Edit
Possible Inspiration
Edit
Short Story
Edit
The Ancient Cistern's motif appears to be based off of the 1918 Japanese short story The Spider's Thread. In it, a criminal attempts to escape into a lotus-filled paradise from the depths of hell by climbing a spider's thread that a Buddhist monk drops down; the dungeon's dark, murky lower floor and golden upper floor being connected by a thread is very likely a parallel to this.
Buddhist Connections
Edit
The Buddhist monk in the story seems to largely reflect the aesthetics. For example, the large statue in the atrium of the dungeon bears a strong resemblance to statues of Buddha. Additionally, the spinning stone pillars located in the basement are reminiscent of prayer wheels, which are found in Buddhist monasteries.
In addition, as Taoism is very closely linked with Buddhism, the upper and lower levels of the dungeon could reflect the Yin and Yang motif. The upper part of the dungeon is a shining, sacred temple, while the lower part is a profane, depraved dungeon, reflecting the balance of good and evil that so heavily pervades Taoist faith.